Song Information
Edit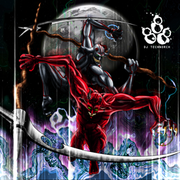 Artist: DJ TECHNORCH
Composition/Arrangement: DJ TECHNORCH
BPM: 111-888 (111-444)
Length: 1:38 (X2→Present), 1:41 (DDR UNIVERSE 3)
First Appearance: DanceDanceRevolution UNIVERSE 3
First AC Appearance: DanceDanceRevolution X2
Other Appearances:
Some soundbites can be heard at two points in the song. One of them for example , "game over" , this was from Remywiki.com
Song Connections / Remixes
Edit
None.
888 is one of the hidden unlockable songs on DanceDanceRevolution UNIVERSE 3.

888 also appears in DDR II, as a boss song hidden in Replicant D-action. This is 888's only appearance in a DDR game as a boss song.

888 is one of the several CS transplants in DanceDanceRevolution X2. It was added on August 1, 2010.
888 marks DJ TECHNORCH's first appearance in the DanceDanceRevolution series.
888 is considered an evil number in Japanese superstition, much like in the same way 666 is considered the Devil's number in Western superstition. This explains why there are demons in 888's album art.
Despite its name being 888, the song's BPM never goes up to 888 at the end, only up to 444.
At 753 notes, 888's Single Challenge chart has the second highest notecount of any Single Challenge chart to date (also shared with PARANOiA Revolution's Single Challenge chart), behind Elemental Creation's 860 notes.

888's Single Challenge chart is also the first chart to surpass the 700 note mark.

Since its debut, 888's Challenge charts have retained the highest Stream value of any chart, at 200. Previously, Fascination MAXX from DDR SuperNOVA and PARANOIA survivor MAX from DDR EXTREME held this value of 200 for their Single Challenge and Double Challenge charts, respectively.

Despite Elemental Creation having 860 notes (more than 888's 753 notes), Elemental Creation has a lower Stream value than 888 (160 vs 200). This is because of Elemental Creation being longer (2:10 vs 1:38).

888 is read as "hachiyasoba" (はちやそば) in Japanese. This was confirmed by DJ TECHNORCH on his Twitter account: [1]
Song Production Information
Edit
None.
Difficulty & Notecounts
Edit
Game
Single
Doubles
BEG
BAS
DIF
EXP
CHA
BAS
DIF
EXP
CHA
Notecounts / Freeze Arrows / Shock Arrows
80 / 6
208 / 10
444 / 24
515 / 11
753 / 25 / -
208 / 10
406 / 11
537 / 21
680 / 12 / -
DDR UNIVERSE 3
N/A
5
8
9
10
6
8
9
10
DDR X2
2
6
12
14
18
7
11
15
18
DDR X3 VS 2ndMIX→Present
↑3
6
↑13
14
18
7
↑12
15
18
DDR S+
2
6
12
14
—
—
—
—
—
DDR II
2
6
12
14
18
7
11
15
18
Groove Radar Values
Edit
Groove Radar Values
Single
Doubles
BEG
BAS
DIF
EXP
CHA
BAS
DIF
EXP
CHA
Stream
16.333
42.333
90.667
109.317
200.000
42.333
82.667
124.786
200.000
Voltage (X2)
21.000
42.000
84.167
104.252
130.316
42.000
84.167
104.252
120.576
Voltage (X3)
21.000
42.000
84.167
↓103.333
↓123.763
42.000
84.167
↓103.333
↓116.882
Voltage (2013)
21.000
42.000
84.167
↓102.596
↓118.509
42.000
84.167
↓102.596
↓113.149
Air
1.818
10.909
36.364
23.636
25.455
5.455
10.909
10.909
30.909
Freeze
12.457
20.800
52.857
37.771
22.000
20.800
33.457
51.657
13.686
Chaos
0.000
0.000
38.350
55.900
110.049
0.000
27.250
60.000
105.476