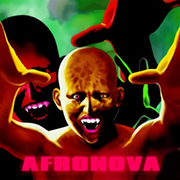 Song Information
Edit
Artist: RE-VENGE
BPM: 200
Composition/Arrangement: Naoki Maeda
First Appearance: Dance Dance Revolution 3rdMIX
Length: 1:28
Tribal vocal samples can be heard.[[Media:Media:Example.ogg$ <nowiki>Insert formula here</nowiki><math>[[Media:Insert formula here]][[File:[Example.jpg][[Link title]]]] $</math>]]
Remixes/Song Connections
Edit
A remix of AFRONOVA, named AFRONOVA PRIMEVAL, can be found on DanceManiaX and Dance Dance Revolution 5thMIX.
A remix of the song, AFRONOVA(B4 ZA BEAT MIX) (although known as AFRONOVA(FROM NONSTOP MEGAMIX) in-game), appears on the DDRMAX2 ORIGINAL SOUNDTRACK and in the same game as a Challenge Mode-only playable edit of AFRONOVA, as well as a fully-playable song on DDR Extreme.

This remix originally came from the 3rd Mix OST Nonstop Megamix, hence the in-game title.

An 8-bit remix of this song is present in Dance Dance Revolution GB2.
AFRONOVA has a signature step gimmick known as the Afronova walk, which is an extended crossover wherein the fourth arrow starts another crossover but is still an 8th as opposed to a 4th note. This would later be used in some technical songs, including the Difficult chart of KIMONO♥PRINCESS and the Challenge chart of London EVOLVED ver.A.

AFRONOVA is one of the many songs whose timing was fixed on DDR X.
AFRONOVA's X-Special counterpart appears as the Encore Extra Stage X-Special, accessible by AA'ing PARANOiA Rebirth(X-Special) as an Extra Stage.
AFRONOVA's original background had female leopard-skinned natives on DDR 3rdMix. They are actually the modified appearance of Reese Witherspoon's photo. But it was changed in DDR 3rdMix PLUS with more realistic natives.
The 8-bit remix of AFRONOVA used in Dance Dance Revolution GB2 runs at a tempo of 
203.87 BPM, instead of 200.
Official Song Comment
Edit
AFRONOVA
This song was created with Africa as its concept.
The sound is created so that if you listen, you can see the eminent
image of a vast landscape of the savanna.
Consequently, I think this song is filled with originality.
NAOKI MAEDA
Difficulty & Notecounts
Edit
Regular Version
Edit
Game
SP Difficulty
DP Difficulty
BEG
BAS
DIF
EXP
CHA
BAS
DIF
EXP
CHA
Notecounts/Freeze Arrows
108/0
214/0
244/0
370/0
-
233/0
245/0
357/0
-
DDR 3rdMIX→DDRMAX2
-
☆5
☆7
☆9
-
☆6
☆7
☆9
-
DDR EXTREME→DDR SuperNOVA2
☆2
☆5
☆7
☆9
-
☆6
☆7
☆9
-
DDR X→Present
5
7
9
13
-
8
9
13
-
NOTE: AFRONOVA does not appear in DDR 5thMIX or DDRMAX
X-Special Version
Edit
Game
SP Difficulty
DP Difficulty
CHA
CHA
Notecounts/Freeze Arrows
394/30
402/11
DDR X
14
14
DDR X2→Present
↓13
14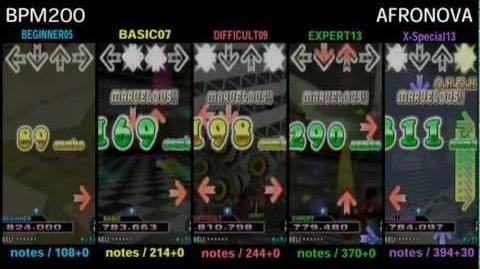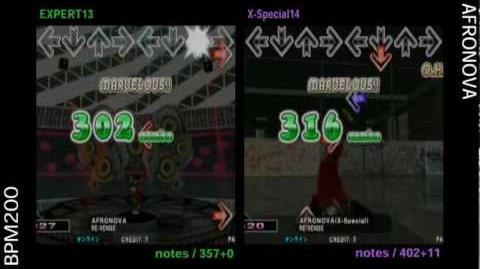 Community content is available under
CC-BY-SA
unless otherwise noted.