Not to be confused with Dancing Stage 1.5 beta song Uh La La La.
Song Information
Edit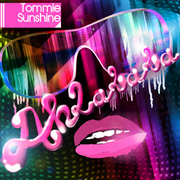 Artist: Tommie Sunshine
BPM: 130
Composition/Arrangement/Lyrics/Vocals: Tommie Sunshine
First Appearance: DanceDanceRevolution (2013)
Length: 1:32
None yet.
Song Connections / Remixes
Edit
None.
Ah La La La marks the return of Tommie Sunshine in the DanceDanceRevolution arcade series, who was first and last seen in DanceDanceRevolution X (although his actual last appearance was with Downtown from DDR (2010)).
As with some of the other new songs in DDR 2013, Ah La La La can be found in the DDR HOTTEST PARTY 3 master songlist.
Official Song Comment
Edit
This song turned into something special when I began to write the lyrics.
Many have told me it has a very European feel to it, especially the Italian influence.
This could be a folk song from many years ago, but instead is a celebration of modern times and captured the freedom one feels while dancing.
No matter what ever comes your way, if you can sing and dance it away it can never get you down.
(Tommie Sunshine)
Difficulty & Notecounts
Edit
Game
SP Difficulty
DP Difficulty
BEG
BAS
DIF
EXP
CHA
BAS
DIF
EXP
CHA
Notecounts/Freeze Arrows
86/0
132/22
166/20
321/8
-
138/20
167/20
293/16
-
DDR (2013)→Present
1
5
7
12
-
5
7
11
-