Song Information
Edit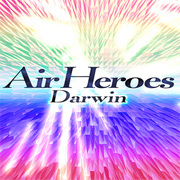 Artist: Darwin
Composition/Arrangement: Darwin
BPM: 175
Length: 1:33
First Appearance: DanceDanceRevolution (2013)
None.
Song Connections / Remixes
Edit
None.
Air Heroes is the third EXTRA STAGE song of DanceDanceRevolution 2013. It was added on June 12, 2013, at EXTRA STAGE Level 3.

Air Heroes received a new Challenge chart on September 18, 2013 (EXTRA STAGE Level 7).
As of October 16, 2013, Air Heroes has been unlocked for regular play.

Air Heroes marks Darwin's first boss song since On The Break from DDR X.

Air Heroes also marks Darwin's return to the DDR arcade series.

Unlike the other boss songs in DDR 2013, Air Heroes does not have any BPM changes or stops. Instead, it uses the strong style method for its Expert and Challenge charts.
This song has a similar tune to Peruvian group Yawar's "Zambito".
Song Production Information
Edit
None yet.
Difficulty & Notecounts
Edit
Game
Single
Doubles
BEG
BAS
DIF
EXP
CHA
BAS
DIF
EXP
CHA
Notecounts / Freeze Arrows / Shock Arrows
103 / 0
252 / 35
306 / 40
475 / 23
622 / 35 / -
255 / 17
319 / 25
469 / 21
591 / 33 / -
DDR (2013)→Present
3
9
11
15
17
9
11
15
17
Groove Radar Values
Edit
Groove Radar Values
Single
Doubles
BEG
BAS
DIF
EXP
CHA
BAS
DIF
EXP
CHA
Stream
22.000
(22)
54.000
(54)
65.333
(65)
103.106
(103)
162.112
(162)
54.667
(54)
68.333
(68)
100.855
(101)
168.376
(168)
Voltage
21.833
(21)
51.000
(51)
51.000
(51)
108.375
(108)
108.375
(108)
51.000
(51)
58.333
(58)
108.375
(108)
108.375
(108)
Air
1.818
(1)
32.727
(32)
21.818
(21)
25.455
(25)
29.091
(29)
?.???
(?)
?.???
(?)
14.545
(14)
5.455
(5)
Freeze
0.000
(0)
70.886
(70)
58.800
(58)
36.229
(36)
55.400
(55)
?.???
(?)
?.???
(?)
35.171
(35)
57.229
(57)
Chaos
0.000
(0)
7.500
(7)
20.050
(20)
97.450
(97)
111.459
(111)
?.???
(?)
?.???
(?)
95.500
(95)
112.218
(112)