Song Information
Edit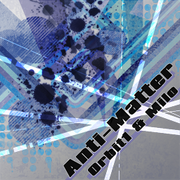 Artist: Orbit1 & Milo
Composition/Arrangement: Orbit1 & Milo
Video Type: Stage (X2→Present), Full (DDR II)
BPM: 100-400 (200→100→400→200→400→100→400→200→400)
Length: 1:40
First Appearance: DanceDanceRevolution X2
Other Appearances:
None.
Song Connections / Remixes
Edit
Anti-Matter is part of the Replicant D-action series of boss songs. The other six songs include:
Antimatter refers to material composed of antiparticles. See more info here.
Anti-Matter is the fifth song in the Replicant D-action series. It is unlocked by playing Trial Mode three times, then getting AA or better on Pierce The Sky and Shiny World on the same difficulty. The color represented by this song is blue.

The boss character of Anti-Matter is a blue-colored clone of Rinon.

PARANOiA Revolution's Expert chart uses the first 400 BPM portion of Anti-Matter's Expert and Challenge charts for the Single and Double versions, respectively.
Anti-Matter is the second Replicant D-action song to be composed by a commissioned artist, with the first being Pierce The Sky.
Anti-Matter's Single Difficult, Expert, and Challenge charts actually have a 64th note in the first 100 BPM section. What should be the second 4th note Freeze arrow actually occurs a 64th note later.
Anti-Matter could be unlocked on DDR Dance Wars by completing Sticker 03-3.
Anti-Matter is one of five songs with a Double Difficult chart rated Level 15. The other four are PARANOiA ~HADES~, Pluto The First, Pluto Relinquish and Valkyrie dimension.

As such, it is the only Replicant D-action song whose Double Difficult chart isn't rated the same as the Single Difficult chart (Level 15 vs Level 14).

Anti-Matter's Single Challenge chart currently has the second highest Stream value of any Single Play chart, at 178.261 (178), behind 888's 200.
Anti-Matter's background video was removed from DDR (2013) due to technical issues. However, it was later readded in an update.
Anti-Matter's intro starts with an easy step pattern.
Background Video
Edit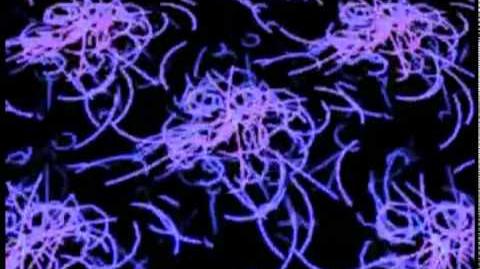 Song Production Information
Edit
Teaming up with UK hardcore producers Orbit1 and Milo
we've put something together that is a hybrid of dance floor and high energy!
With tones of music elements to make you go crazy the genre
is a cross mashup between UK Hardcore, Drum n Bass, Breakbeat,
Industrial and even some elements of electro at an extreme BPM!

(DJ Silver)
Difficulty & Notecounts
Edit
Game
Single
Doubles
BEG
BAS
DIF
EXP
CHA
BAS
DIF
EXP
CHA
Notecounts / Freeze Arrows / Shock Arrows
190 / 0
333 / 21
444 / 41
600 / 36
700 / 30 / -
333 / 21
444 / 56
525 / 43
622 / 36 / -
DDR X2
6
9
14
17
18
10
15
17
18
DDR X3 VS 2ndMIX→Present
6
↑10
14
17
18
10
15
17
18
DDR S+
6
9
14
17
-
-
-
-
-
DDR II
6
9
14
17
18
10
15
17
18
DDR Dance Wars
6
9
14
17
-
-
-
-
-
Groove Radar Values
Edit
Groove Radar Values
Single
Doubles
BEG
BAS
DIF
EXP
CHA
BAS
DIF
EXP
CHA
Stream
38.333
(38)
67.667
(67)
90.000
(90)
140.373
(140)
178.261
(178)
67.667
(67)
90.000
(90)
117.094
(117)
167.521
(167)
Voltage (X2)
39.500
(39)
79.167
(79)
104.664
(104)
148.148
(148)
155.985
(159)
79.167
(79)
104.664
(104)
104.664
(104)
148.148
(148)
Voltage (X3 VS 2ndMIX)
39.500
(39)
79.167
(79)
↓103.656
(103)
↓137.742
(137)
↓146.237
(146)
79.167
(79)
↓103.656
(103)
↓103.656
(103)
↓137.742
(137)
Voltage (DDR 2013)
39.500
(39)
79.167
(79)
↓102.848
(102)
↓129.397
(129)
↓136.013
(136)
79.167
(79)
↓102.848
(102)
↓102.848
(102)
↓129.397
(129)
Air
16.364
(16)
36.364
(36)
10.909
(10)
23.636
(23)
23.636
(23)
32.727
(32)
18.182
(18)
12.727
(12)
16.364
(16)
Freeze
0.000
(0)
28.571
(28)
42.800
(42)
27.229
(27)
20.286
(20)
30.743
(30)
59.886
(59)
38.457
(38)
31.429
(31)
Chaos
0.000
(0)
3.850
(3)
15.650
(15)
83.5
(83)
103.559
(103)
3.850
(3)
21.000
(21)
35.500
(35)
97.700
(97)