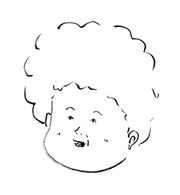 General Information
Edit
Asaki (あさき) is a BEMANI artist who made his BEMANI debut in 2002's GUITARFREAKS 7thMIX & drummania 6thMIX, debuting with the songs 蛹 (Sanagi) and 誰? (Dare?). He made his first appearance in the DanceDanceRevolution series in 2006's DanceDanceRevolution SuperNOVA. However, prior to resonance from DDR フルフル♪パーティー and DDR X2, all of his songs in DDR were BEMANI crossovers. He would later compose his first original song on the DDR series, お米の美味しい炊き方、そしてお米を食べることによるその効果。.
Compared to most BEMANI musicians, Asaki is the most reclusive.
Asaki was the vocalist for visual kei band Blanc Neige.
Asaki is a co-host of the BEMANI Backstage Weekly Web Radio ([1]).
あさき
閣下
Ashemu
鬼の子合唱団
Captain Rock
Captain Metal
ションボリくらぶ (member of)
わんにゃん☆パニックス (member of)
GINGER (in collaboration with Jimmy Weckl)
Sis Bond Chit (producer for)
Rotten Blotch (producer for)
Nelo (producer for)
DanceDanceRevolution Songs
Edit
Community content is available under
CC-BY-SA
unless otherwise noted.