Cole "Astro" Mackenzie



Debut

DDR 3rdMIX

Age

24 (DDR 3rdMIX-Ultramix 4)

Birthday

February 8

Height

5'8"

Weight

No information

Blood Type

O

Hometown

Los Angeles, California (USA)

Favorite Things

UFO related things, Pizza
Online cosplay auctions

Dislikes

Hooligans, Insomnia

Hobbies

Cosplaying, Dancing
Cole Mackenzie (コール・マッケンジー Kooru Makkenjii) also known as Astro (アストロ Asutoro) is a character in the Dance Dance Revolution series, introduced as a playable character in Dance Dance Revolution 3rdMIX along with his girlfriend, Charmy until Dance Dance Revolution Ultramix 4.
"For justice!!"
―Astro to the player, Dance Dance Revolution Ultramix 4
Games in order of appearance:
DDRMAX (during the background videos) (2001)
Dance Dance Revolution Party Collection (2003)
Dance Dance Revolution EXTREME 2 (2005)
Dance Dance Revolution Ultramix 4 (2006)
Backstory
Edit
Astro is usually a serious police patroller, but he gets a kick of being able to wear his favorite costume on the weekend. He has a career on cosplay for 20 years, so it has become an everyday affair. He formed a cosplay unit with his girlfriend, Charmy. Recently he has been having trouble with insomnia.
Special Notes
Edit
An avid cosplayer and a lover of techno music. His character design bears a lot of simliarity to Japanese superheroes such as Ultraman. He is Charmy's boyfriend.
Character and Personality
Edit
Astro is described as a serious and a very impressive person as a police patroller. He also likes Charmy which he forms a cosplay unit with her as well as they sew each others costumes for their job as cosplay outifits. He also hates Hooligans which he tried to take them down single handedly due to his occupation. However, he later gets insomnia due to his workaholic nature with no sleep as he shares this trait with Boldo who is also a workaholic as an advertising manager of his own company.
As of DDR Ultramix 4, Astro simply shows his confidence and his strong sense of justice which he was amused to the player's dance moves and wants to form a tag team with each other for his sense of justice.
Astro portrays as a Police Patroller and a cosplayer who forms with Charmy in his cosplay unit.
Appearance
Edit
Astro appears wearing a futuristic bonnet hat with a matching blue visor where he conceals his face.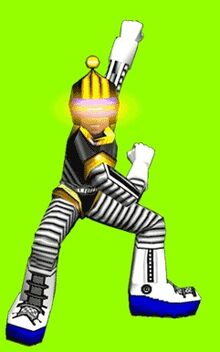 Community content is available under
CC-BY-SA
unless otherwise noted.