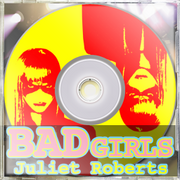 Song Information
Edit
Artist: Juliet Roberts
Original Artist: Donna Summer
Album: ZIPmania
BPM: 122
First Appearance: Dance Dance Revolution 2ndMIX
Other Appearances:
Length: 1:20
(Choo-choo, ahh, beep beep)

Bad girls (bad girls)
Talking about the sad girls (sad girls)
Sad girls (sad girls)
Talking about bad girls (bad girls), yeah

See them out on the streets at night (walkin')
Picking up on all kinds of strangers (if the price is right)
Well you can't score (if your pocket's tight)
But you want a good time

You ask yourself
Who they are
Like everybody else
They come from near and far, oh yeah

Bad girls, sad girls, you such a dirty bad girl
(beep-beep uh-huh)
You bad girl, you sad girl, you're such a dirty bad girl
(beep-beep uh-huh)

Remixes/Song Connections
Edit
BAD GIRLS is a cover of the Donna Summer song of the same name.
BAD GIRLS was revived on DanceDanceRevolution X3 VS 2ndMIX, with a new Beginner chart and a new Challenge chart. Its 2ndMIX mode background video appears as an on-stage background video as well.
Difficulty & Notecounts
Edit
Game
SP Difficulty
DP Difficulty
BEG
BAS
DIF
EXP
CHA
BAS
DIF
EXP
CHA
Notecounts/Freeze Arrows
48/0
96/0
144/0
194/0
248/0
116/0
150/0
175/0
252/0
DDR 2ndMIX→DDR 4thMIX PLUS
-
☆2
☆4
☆5
-
☆3
☆4
☆6
-
DDR X3 VS 2ndMIX→Present
2
4
6
8
11
5
7
8
11
Community content is available under
CC-BY-SA
unless otherwise noted.