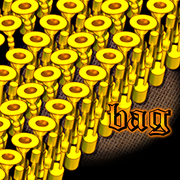 Song Information
Edit
Artist: RevenG
BPM: 65 (DDR), 130 (IIDX)
Composition/Arrangement: Naoki Maeda
Genre: SPIRITUAL
First Appearance: Dance Dance Revolution EXTREME
Other Appearances:
beatmaniaIIDX 9th style
Dance Dance Revolution SuperNOVA2 US CS
Length: 1:34
None.
Remixes/Song Connections
Edit
None.
bag's BPM in DDR is half of its actual BPM (130). As a result, the notes are very cluttered and hard to read (many of them are 24ths).
The broken quantization system of DDR games up to SuperNOVA2 was a problem that prevented people from timing the chart properly due to the arcade system of the games being based off of the PlayStation 2. On DDR X and later, which use BEMANI PC Type 4 as the arcade system, the 24ths are fixed. However, on DanceDanceRevolution X2, a new Challenge chart, which is actually the Expert chart but with 64th note timing, was made.
As of DanceDanceRevolution 2013, bag now has it's own background video from DanceDanceRevolution EXTREME.
The first five notes of bag's melody are B-B-B-A-G.
Song Production Information
Edit
Following up on 桜 comes this new tune from Reven-G. I was taken in by the charm of traditional Japanese music while I stayed in Japan. But as I went on my journey around the world once again, this time I went with the bagpipe for my newest song, which is a traditional musical instrument of Europe. The very low BPM speed complements the traditional type of Reven-G music one often associates it with, with a digital beat intertwining the song. To tell you the truth, while the music is often called traditional folk music, it has become one of the cornerstones of present-day music. I secretly used this opportunity for you to receive a musical lesson, courtesy of Reven-G.
Community content is available under
CC-BY-SA
unless otherwise noted.