Song Information
Edit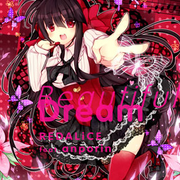 Artist: REDALiCE feat. anporin
Composition/Arrangement: REDALiCE
Vocals: anporin
Jacket Designer: ほまれ (Homare)
BPM: 182
Length: 1:53
First Appearance: DanceDanceRevolution (2013)
Other Appearances:
GITADORA
REFLEC BEAT colette -Autumn-
Currently unavailable.
Song Connections / Remixes
Edit
None.
Beautiful Dream marks REDALiCE's first appearance in the DanceDanceRevolution series.

It also marks his first appearance on the GuitarFreaks/DrumMania series.

During JAEPO 2013, Beautiful Dream received Challenge charts. These were added on October 31, 2013.
The song comments on the DDR 2013 website reveals that REDALiCE himself created the charts for Beautiful Dream and was a long time DDR player, with his primary playing style as Double.
Beautiful Dream was added to GITADORA on August 11, 2013, as part of the jubeat, GITADORA, DDR's Triple Journey (jubeat,GITADORA,DDRのTriple Journey) event.
Song Production Information
Edit
Nice to meet you, DDR players throughout the world! I'm REDALiCE from HARDCORE TANO*C!!
I'm so honored to have the chance to make a song for DDR!
I'm reminded of the days when I used to play the first generation of DDR games, sweating through my t-shirt in the
middle of the summer.
Anyways, I made this song to be bright and fun.
Try jumping around and having fun with it
And I also made the stepchart as well!
I made it with the spirit of EDIT I have, please enjoy it.
Doubles play was my main method of playing, so I feel that the DP charts have more power to them.
Since I not only made the song, but the charts as well, please treat it as a whole package.
The CD jacket was designed by Hohore-san, the girl on it is super cute!
Well then, please enjoy Beautiful Dream!
(REDALiCE)
Difficulty & Notecounts
Edit
Game
Single
Doubles
BEG
BAS
DIF
EXP
CHA
BAS
DIF
EXP
CHA
Notecounts / Freeze Arrows / Shock Arrows
110 / 0
257 / 7
291 / 21
391 / 34
542 / ? / -
275 / 5
293 / 9
386 / 24
524 / 31 / -
DDR (2013)→Present
3
7
9
12
15
7
9
12
15
Groove Radar Values
Edit
Groove Radar Values
Single
Doubles
BEG
BAS
DIF
EXP
CHA
BAS
DIF
EXP
CHA
Stream
19.333
(19)
45.667
(45)
51.667
(51)
69.667
(69)
96.667
(96)
49.000
(49)
52.000
(52)
68.667
(68)
93.333
(93)
Voltage
15.167
(15)
30.333
(30)
53.000
(53)
60.667
(60)
110.720
(110)
37.833
(37)
45.500
(45)
60.667
(60)
98.500
(98)
Air
0.000
(0)
23.636
(23)
18.182
(18)
45.455
(45)
56.364
(56)
29.091
(29)
21.818
(21)
45.455
(45)
43.636
(43)
Freeze
0.000
(0)
14.686
(14)
28.143
(28)
42.857
(42)
65.943
(65)
11.343
(11)
10.914
(10)
32.343
(32)
45.771
(45)
Chaos
0.000
(0)
0.350
(0)
9.050
(9)
22.600
(22)
98.450
(98)
2.750
(2)
8.800
(8)
22.150
(22)
79.450
(79)