Song Information
Edit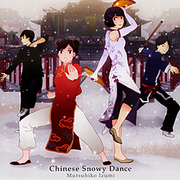 Artist: Mutsuhiko Izumi
Composition/Arrangement: Mutsuhiko Izumi
BPM: 175
Length: 1:49
First BEMANI Appearance: GuitarFreaks XG2 & DrumMania XG2: Groove to Live
First DDR Appearance: DanceDanceRevolution (2013)
Other Appearances:
REFLEC BEAT colette -Winter-
None.
Song Connections / Remixes
Edit
Chinese Snowy Dance is part of Mutsuhiko Izumi's series of "Dance" songs, which include Russian Snowy Dance, Green Green Dance, and Spanish Snowy Dance.
Chinese Snowy Dance was added to DanceDanceRevolution 2013 on August 26, 2013, as part of the Triple Journey unlock event.
Difficulty & Notecounts
Edit
Game
Single
Doubles
BEG
BAS
DIF
EXP
CHA
BAS
DIF
EXP
CHA
Notecounts / Freeze Arrows / Shock Arrows
138 / 11
226 / 25
365 / 25
594 / 35
- / - / -
203 / 20
349 / 26
589 / 22
- / - / -
DDR (2013)→Present
4
7
12
16
—
7
12
16
—
Groove Radar Values
Edit
Groove Radar Values
Single
Doubles
BEG
BAS
DIF
EXP
CHA
BAS
DIF
EXP
CHA
Stream
26.3
43.3
70
125.5
—
38.7
66.7
133.3
—
Voltage
?
?
?
108.3
—
?
?
108.3
—
Air
?
?
?
5.5
—
?
?
?
—
Freeze
?
?
?
57.3
—
?
?
?
—
Chaos
0
?
?
105.1
—
?
?
100+
—