Song Information
Edit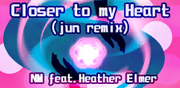 Artist: NM feat.Heather Elmer
Composition: NAOKI MAEDA
Arrangement: jun
Lyrics: John Allred
Vocals: Heather Elmer
Length: 1:39 (in-game), 1:36 (OST)
BPM: 145
First Appearance: DanceDanceRevolution HOTTEST PARTY 2 / ダンスダンスレボリューション フルフル♪パーティー
None yet.
Song Connections / Remixes
Edit
Closer to my Heart (jun remix) is a remix of the ending credits theme for DDRMAX -Dance Dance Revolution 6thMIX-.
The in-game version of Closer to my Heart (jun remix) is longer than the OST version because of the time the characters take to finish dancing.
Closer to my Heart (jun remix)'s dance routine in DanceDanceRevolution HOTTEST PARTY 2 is used as one of two generic dance routines in the DanceDanceRevolution arcade series (starting with DanceDanceRevolution X), along with escape. Both routines are used only for songs with a maximum BPM of between 131 and 159 (including aftershock!!, which briefly changes to 628 BPM late into the song).

These routines appear only for new songs, including old songs that have been revived in DDR X2.
Song Production Information
Edit
Untranslated.
Difficulty & Notecounts
Edit
Game
Single
Doubles
BEG
BAS
DIF
EXP
CHA
BAS
DIF
EXP
CHA
Notecounts / Freeze Arrows / Shock Arrows
86 / 12
167 / 22
250 / 25
391 / 26
- / - / -
- / -
- / -
- / -
- / - / -
DDR HOTTEST PARTY 2
☆2
☆4
☆7
☆9
—
—
—
—
—
DDR フルフル♪パーティー
☆2
☆4
☆7
☆9
—
—
—
—
—