Song Information
Edit
Regular Version
Edit
Artist: N & S
BPM: 190
Composition/Arrangement: NAOKI MAEDA
First Appearance: Dance Dance Revolution 3rdMIX
Other Appearances:
Dancing Stage EuroMIX (Internet Ranking)
Dance Dance Revolution 3rdMIX CS
Dance Dance Revolution USA
Dancing Stage EuroMIX CS
Dance Dance Revolution KONAMIX
Dancing Stage PARTY EDiTiON
DDRMAX2 -Dance Dance Revolution 7thMIX- CS
Dance Dance Revolution ULTRAMIX 2
Dancing Stage Unleashed 2
DanceDanceRevolution UNIVERSE 2
DanceDanceRevolution SuperNOVA2 JP CS
DanceDanceRevolution S+ DDR 3rdMIX Pack
DanceDanceRevolution Classroom Edition
Length: 1:39
"GROOVE RADAR" Special
Edit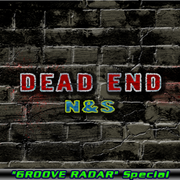 Artist: N & S
BPM: 95-380 (95-stop-190-95-stop-95-stop-190-stop-95-380-190)
Composition/Arrangement: NAOKI MAEDA
First Appearance: DanceDanceRevolution SuperNOVA2
Other Appearances:
DanceDanceRevolution SuperNOVA2 JP CS
DanceDanceRevolution X2 US CS
Length: 1:39
None except for unknown voice samples.
Remixes/Song Connections
Edit
A portion of DEAD END's Expert chart is used in Dance Dance Revolution's Challenge chart.
DEAD END is sampled in Sol Cosine Job 2 by DJ TECHNORCH, from beatmaniaIIDX 20: tricoro.
DEAD END's background and jacket depict a wall blocking off an escape path, as the title suggests.
DEAD END's Single Expert chart had a timing fix on DDR X.
DEAD END has a special Challenge-only version in DDR SuperNOVA2 that maximizes on all five aspects of the Groove Radar (Stream, Voltage, Air, Freeze, and Chaos). This version is named DEAD END ("GROOVE RADAR" Special). This version has BPM changes. It is arguably known as one of the most bizarre charts ever made.

The Challenge chart's radar is no longer maximized post-DDRX due to the big changes made in the DDRX's ratings. Chaos is the only aspect maximized.
DEAD END ("GROOVE RADAR" Special) also appears as a boss song in the North American CS version of DDR X2. It is the only song with only a Challenge chart to be an actual boss song in a DDR game.

DEAD END ("GROOVE RADAR" Special) has high amounts of jumps and freeze arrows in its charts. Both Single and Double have 75 Freeze Arrows and 92 Jumps.
Official Song Comment
Edit
None.
Community content is available under
CC-BY-SA
unless otherwise noted.