Song Information
Edit
Artist:
dj TAKA
feat. Kanako Hoshino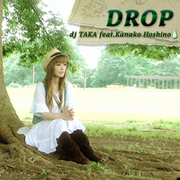 Composition/Arrangement: Takayuki Ishikawa

Lyrics/Vocals: Kanako Hoshino 
BPM: 152 
Length: 2:05 
Genre: WHITE SEQUENCE 
First Music Game Appearance: beatmania IIDX 17 SIRIUS 
Other Music Game Appearances:
Japanese
雲間から零れ出してく 
瞼を閉じても溢れる光 
浴びて 今日も歩いていくから 

涙は笑顔になるための通り道 
迷い続けながら 

Fly away to the starry sky 
何度と零れ落ちた 
心の雫 今 弾け出してく 
色とりどりに染めて 空へ

Song Conenction / Remixes
Edit
A long version of DROP is on Kanako Hoshino's mini album, Starry ~the way to the SIRIUS~.
DROP's video was filmed at Showa Memorial Park.
According to Kanako Hoshino, she was originally supposed to wear a yukata in the movie by request of dj TAKA and his friends.
DROP's video did not appear in DDR II due to localization issues.
Difficulty & Notecount
Edit
Game
SP Difficulty
DP Difficulty
BEG
BAS
DIF
EXP
CHA
BAS
DIF
EXP
CHA
Notecounts/Freeze Arrows
73/0
145/19
223/18
348/31
-
134/17
242/16
383/31
-
DDR X2→Present
1
4
7
11
-
4
7
13
-