Not to be confused with Diamond Night from DanceDanceRevolution II and DanceDanceRevolution 2013.
Song Information
Edit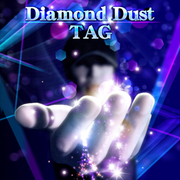 Artist: TAG
Composition/Arrangement: TAG
Genre: REFLECTIVE TRANCE
BPM: 148
Length: 1:43
First BEMANI Appearance: REFLEC BEAT
First DDR Appearance: DanceDanceRevolution X3 VS 2ndMIX
Other Appearances:
pop'n music 20 fantasia
REFLEC BEAT plus Music Pack 7
REFLEC BEAT + KONAMI Music Pack 2
None.
Song Connections / Remixes
Edit
A full version of Diamond Dust can be found on the REFLEC BEAT ORIGINAL SOUNDTRACK.
A rearrange of Diamond Dust with vocals by DJ YOSHITAKA, named Diamond Dust -Try to Sing Ver.- and credited to TAG rejected by DJ YOSHITAKA, also appears on REFLEC BEAT.
The TAG menu BGM in REFLEC BEAT is partially based off of Diamond Dust.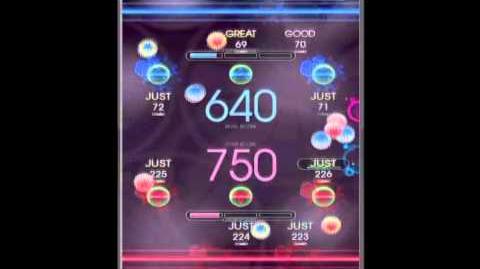 Diamond Dust is TAG's first original contribution to the REFLEC BEAT series.

This is also the first REFLEC BEAT song to be crossovered to the DanceDanceRevolution series.

TAG himself appears on Diamond Dust's album art.
Diamond Dust is the only default BEMANI crossover in DanceDanceRevolution X3 VS 2ndMIX.
Diamond Dust's genre, REFLECTIVE TRANCE, references the game from where it originated, REFLEC BEAT.
Diamond Dust has the first Shock Arrow Challenge chart where the notecount is higher than that of the Expert chart.
Diamond Dust's Challenge chart's rhythms are similar to that of the REFLEC BEAT Hard chart of Diamond Dust -Try to Sing Ver.-.
Diamond Dust's Challenge chart is the last Enjoy Level unlock on DDR X3 VS 2ndMIX, unlocked at Enjoy Level 100.
Diamond Dust is one of several songs available on Happy Mode.
Difficulty & Notecounts
Edit
Game
SP Difficulty
DP Difficulty
BEG
BAS
DIF
EXP
CHA
BAS
DIF
EXP
CHA
Notecounts/Freeze Arrows
(Shock Arrows)
70/0
148/13
181/18
251/25
274/18
(39)
138/13
189/28
255/26
277/16
(41)
DDR X3 VS 2ndMIX→Present
1
5
7
10

13

5
8
11

13
Community content is available under
CC-BY-SA
unless otherwise noted.