Song Information
Edit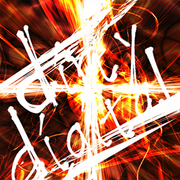 Artist: kors k
BPM: 140
Composition/Arrangement: Kosuke Saito
First Appearance: DanceDanceRevolution UNIVERSE 3
First AC Appearance: DanceDanceRevolution X2
Other Appearances:
Length: 1:27
Yellow is sunshine, blue is the rain
Gray is sadness, purple is pain

But understand it's all part of livin
And it's time we start givin a damn

About our fellow man it shouldn't matter
If he's a blue or a yellow

Technically we're all from the same mold
And this racial ---- is getting old

1, 2, 3, break it down!

Song Connections / Remixes
Edit
Some of the lyrics are sampled from Miki's Dream to New World.
A long version of dirty digital can be found on kors k's album Ways for Liberation.
dirty digital marks Kosuke Saito's first appearance and one of his first two original contributions to the DanceDanceRevolution series, with the other being oarfish.
dirty digital is available on DanceDanceRevolution X2 once the player has scored 20,000 points and hit 30 planets in the PiX minigame.
dirty digital is the only song in DDR Universe 3 to contain profanity, although very distorted in the song itself and censored in the game ("----").
dirty digital is the second and last MISSION Stage 08 unlock song in DanceDanceRevolution Dance Wars. To unlock, these objectives must be accomplished:
Difficulty & Notecounts
Edit
Game
SP Difficulty
DP Difficulty
BEG
BAS
DIF
EXP
CHA
BAS
DIF
EXP
CHA
Notecounts/Freeze Arrows
57/4
116/4
192/5
252/5
306/2
116/4
191/5
243/7
314/2
DDR X2→Present
1
4
7
11
13
4
7
11
13
DDR UNIVERSE 3
☆1
☆4
☆6
☆8
☆9
☆4
☆6
☆8
☆9
DDR II
1
4
7
11
13
4
7
11
13
DDR S+
1
4
7
11
-
-
-
-
-
DDR Dance Wars
1
4
7
11
-
-
-
-
-