Song Information
Edit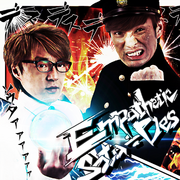 Artist: Sota÷Des
Composition/Arrangement: Sota Fujimori, Osamu Migitera
Vocals/Guitar: Osamu Migitera
Genre: DRUM STEP (ドラムステップ)
BPM: 180
Length: 1:57
First Appearance: DanceDanceRevolution (2013) / beatmaniaIIDX 20 tricoro / GITADORA / jubeat saucer / pop'n music Sunny Park / REFLEC BEAT colette -Spring-
MIX
重なる empathetic identification
動き出す

It's so deep in this,locus is tracting now.
I see,I reach,I touch,so deep inside.
Send it もう見えるから for real 離れない
draw lines その中にある veracity 壊れない

Song Connections / Remixes
Edit
Empathetic is part of the 私立BEMANI学園 (Private BEMANI Academy) event. The other songs are:
To unlock Empathetic, you must get 100% on Friendship to Sota Fujimori and Osamu Migitera. By playing the following games, you will gain a percentage of Friendship towards unlocking Empathetic:

DanceDanceRevolution, pop'n music Sunny Park: 2.5%
beatmaniaIIDX 20 tricoro, REFLEC BEAT colette: 1%
GITADORA, jubeat saucer: 0.5%

Empathetic marks the first collaboration between Sota Fujimori and Osamu Migitera in BEMANI.

The katakana in Empathetic's album art reads "Des Des Des..." (at the top) and "Soutaaaaaaa" (on the left side), a reference to Sota Fujimori and Des-ROW, the two artists who worked on Empathetic together.

"Empathetic" means showing empathy for others and recognizing their feelings.
Song Production Information
Edit
Sota Fujimori
Edit
Untranslated.
Untranslated.
Difficulty & Notecounts
Edit
Game
Single
Doubles
BEG
BAS
DIF
EXP
CHA
BAS
DIF
EXP
CHA
Notecounts / Freeze Arrows / Shock Arrows
146 / 18
263 / 10
417 / 11
487 / 11
- / - / -
263 / 10
417 / 11
487 / 11
- / - / -
DDR (2013)→Present
4
7
11
14
—
7
11
14
—