Song Information
Edit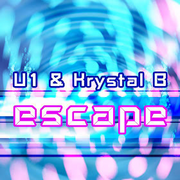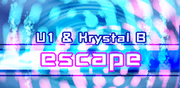 Artist: U1 & Krystal B
Composition/Arrangement: Yuichi Asami
Lyrics: Brenda Burch
Vocals: Krystal B
BPM: 140
Length: 1:36
First Appearance: DanceDanceRevolution HOTTEST PARTY 2 / ダンスダンスレボリューション フルフル♪パーティー
First AC Appearance: DanceDanceRevolution (2013)
Other Appearances:
Dance with me
Feel the beat

Day after day we've been working so hard
Watching the clock every minute tick-tock
It's finally Friday at 5
And I'm on my way
We'll go out where the music will play

So leave your cares out the doors
Dance tonight
It's time to party until morning light

Relax, breathe in and out
Feel the rhythm flow
Live in the moment
And let yourself go
(Let yourself let yourself let yourself)

Take my hand
I promise you will see
Here and now
We can join the fun and get crazy

Lose control
Watch worries melt away

You and me
Feelin' free
Rock the beat
And dance

Song Connections / Remixes
Edit

escape marks the first appearance of Krystal B in BEMANI.
escape's dance routine is used as a generic dance routine for most of the songs in arcade games starting with DanceDanceRevolution X2, usually ranging from 131 to 159 BPM (including aftershock!!, which has a brief 628 BPM change).

Even though its dance routine has been used heavily throughout the arcade series since X, the original dance routine was not used in full when escape finally appeared in DDR 2013. The reason for this is currently unknown.

escape also never had its dance routine in DDR S.

escape is the first Enjoy Level unlock on DDR 2013, unlocked by reaching Enjoy Level 5. Reaching Enjoy Level 55 will unlock a new Challenge chart.
escape is the only Enjoy Level unlock song in DDR 2013 where the Double Challenge chart is not rated the same as the Single Expert chart.
escape's Single Expert chart was revised from its DDR HOTTEST PARTY 2 version: the last two freeze arrows have been converted to a left-down freeze arrow jump.
Song Production Information
Edit
Untranslated.
Difficulty & Notecounts
Edit
Original Chart
Edit
Game
Single
Doubles
BEG
BAS
DIF
EXP
CHA
BAS
DIF
EXP
CHA
Notecounts / Freeze Arrows / Shock Arrows
109 / 0
156 / 3
218 / 5
282 / 6
- / - / -
- / -
- / -
- / -
- / - / -
DDR HOTTEST PARTY 2
☆2
☆3
☆6
☆8
—
—
—
—
—
DDR フルフル♪パーティー
☆2
☆3
☆5
☆8
—
—
—
—
—
DDR S
3
5
8
10
—
—
—
—
—
Revised Chart
Edit
Game
Single
Doubles
BEG
BAS
DIF
EXP
CHA
BAS
DIF
EXP
CHA
Notecounts / Freeze Arrows / Shock Arrows
109 / 0
156 / 3
218 / 5
↓281 / ↓5
352 / 10 / 35
153 / 5
219 / 5
281 / 5
353 / 9 / 34
DDR (2013)→Present
3
5
8
10
13
5
8
10
14