Not to be confused with 華爛漫 -Flowers- by TËЯRA, which is simply called Flowers.
Song Information
Edit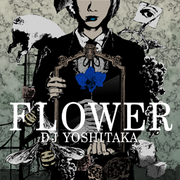 Artist: DJ YOSHITAKA
Composition/Arrangement: DJ YOSHITAKA
Genre: TRANCE CORE (トランスコア)
BPM: 173
Length: 2:05
First BEMANI Appearance: jubeat knit APPEND / REFLEC BEAT
First DDR Appearance: DanceDanceRevolution X3 VS 2ndMIX
Other Appearances:
beatmaniaIIDX 20 tricoro
jubeat plus music pack 20
jukebeat KONAMI Music Pack 1
pop'n music 20 fantasia
REFLEC BEAT plus jubeat music pack
REFLEC BEAT + KONAMI MUSIC PACK 10
DanceEvolution ARCADE
ミライダガッキ FutureTomTom
None.
Song Connections / Remixes
Edit
A speed remix of FLOWER by Ryu☆, FLOWER (Ryu☆Remix), appears on the cyber beatnation 2 - Hi Speed conclusion- CD.
A remix of FLOWER by REDALiCE, titled FLOWER REDALiCE Remix, appears on SOUND VOLTEX BOOTH.
A rock remix of FLOWER by TLION69, named FLOWER -TLION69 Remix-, can be found in GuitarFreaksXG3 & DrumManiaXG3.
Late into the song, the music selection sound from beatmaniaIIDX 13 DistorteD can be heard.
The beatmaniaIIDX version of FLOWER sounds slightly different from the original jubeat, REFLEC BEAT, DanceDanceRevolution, and pop'n music versions.

REFLEC BEAT colette also uses this version.
On February 14, 2012, FLOWER was made available for play on DanceDanceRevolution X3 VS 2ndMIX, as part of the APPEND TRAVEL event made to promote jubeat copious. To unlock, collect 3 Daily Stars. Collecting 4 will unlock the Challenge chart.

In later games, FLOWER is available by default.

The album arts for FLOWER in REFLEC BEAT and jubeat are slightly different. The flower is red in REFLEC BEAT, while the jubeat one is colored red. Also, on the top left corner of the REFLEC BEAT album art, the front of a piglet is shown, while the jubeat version shows the same piglet's rear.

The album art used in the jubeat series is the one used in the DanceDanceRevolution series.

FLOWER is the first song to appear on every active BEMANI series so far.

As a result, some people consider this an inside joke.
As of July 2014, This was averted because BeatStream does not have FLOWER.

FLOWER's Challenge chart was rerated down 2 levels on the location test of DanceDanceRevolution 2013. Developers, fans, and players alike felt that it was too easy for a 17.
In the US/EU iTunes version of the beatmania IIDX 20 tricoro ORIGINAL SOUNDTRACK Vol.1 album, FLOWER is spelled as Flower.
FLOWER is the track used in the BEMANI TV Commercial aired in May 2013.
Difficulty & Notecounts
Edit
Game
SP Difficulty
DP Difficulty
BEG
BAS
DIF
EXP
CHA
BAS
DIF
EXP
CHA
Notecounts/Freeze Arrows
101/19
218/39
363/13
442/11
595/20
238/14
357/15
418/13
549/20
DDR X3 VS 2ndMIX
3
7
10
13
17
6
9
13
17
DDR (2013)→Present
3
7
10
13
↓15
6
9
13
↓15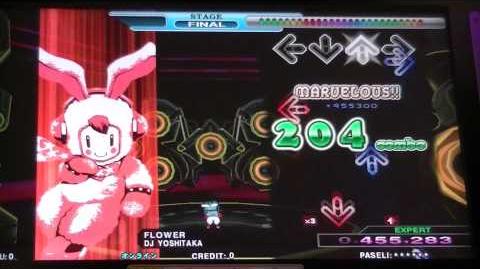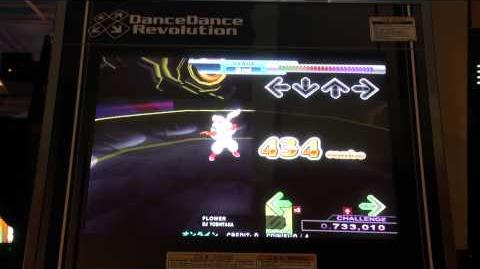 Community content is available under
CC-BY-SA
unless otherwise noted.