Song Information
Edit
Japanese Version
Edit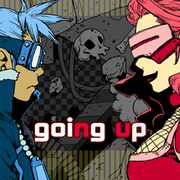 Artist: colors
BPM: 212
Composition: Taka
Arrangement: colors
Lyrics/Vocals: Hiro
Video Type: Full (X2→Present)
First BEMANI Appearance: GUITARFREAKS & drummania V
First DDR Appearance: DanceDanceRevolution X2
Length: 1:55
Chinese Version
Edit
Artist: 色彩乃夢
BPM: 212
Composition: Taka
Arrangement: colors
Vocals: Sècǎi Nǎimèng
Video Type: Full (X2→Present)
First Appearance: DanceDanceRevolution X2
Length: 1:55
壊れそうなほど熱を持った銀色の metalic heart
高鳴る鼓動 誘われ 久しぶりの幕開けさ


誰も止められない speed 散らし
ホコリ立ててモザイク 僕の顔が見えるかい?


燃え出した過去の記憶を 灰になるまで抱いて
地平線に未来響かすと誓ったのさ
夜明けを背に


※
I'm just going up
刺さる風も味方にして登る もう迷わない
本能のまま走る 後悔はいらない
妄想でもいいから叫ぶよ


※repeat

Song Connections/Remixes
Edit
A Chinese version of the song, with the same title but credited to 色彩乃夢 (pinyin: Sècǎi Nǎimèng), can be found on DanceDanceRevolution X2.
going up is one of seven songs in DanceDanceRevolution X2 with a Chinese version, accessible by simply playing the Challenge chart.
going up's Single Expert chart has the second most notes of any Single Expert chart rated 12, behind ロンドンは夜8時 (LON 8PM - TYO 4AM)'s 498 notes.
going up is the only Chinese song in which the album arts for both the Japanese and Chinese versions are exactly the same since the artist is not written on either album art.
Background Video
Edit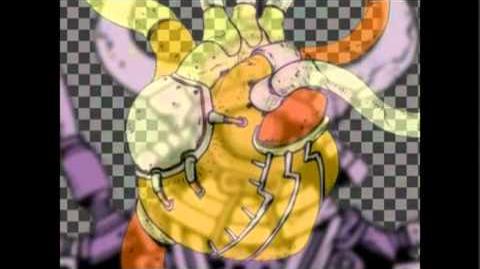 Difficulty & Notecounts
Edit
Game
SP Difficulty
DP Difficulty
BEG
BAS
DIF
EXP
CHA
BAS
DIF
EXP
CHA
Notecounts/Freeze Arrows(Shock Arrows)
117/4
296/0
398/0
491/0
352/0(46)
269/7
391/0
489/0
347/0(43)
DDR X2
3
7
10
13
11
7
11
14
12
DDR X3 VS 2ndMIX→Present
3
7
10
↓12
11
7
11
↓13
12
Community content is available under
CC-BY-SA
unless otherwise noted.