Song Information
Edit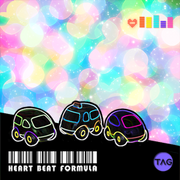 Artist: TAG
Composition/Arrangement: TAG
BPM: 230
Length: 1:47
First Appearance: DanceDanceRevolution X3 VS 2ndMIX
Other Appearances:
jubeat saucer
jubeat plus / jubeat plus (Xperia版) saucer pack 09
None
Song Connections / Remixes
Edit
HEART BEAT FORMULA shares some similarities with TRINITY ARROW, an early TAG song, originally from pop'n music 18 せんごく列伝.
A rock arrange of HEART BEAT FORMULA, titled HEART BEAT FORMULA (GITADORA Ver.) and credited to TAG feat. 96, appears in GITADORA.
HEART BEAT FORMULA is unlocked on DanceDanceRevolution X3 VS 2ndMIX by reaching Enjoy Level 90.
HEART BEAT FORMULA was added to jubeat saucer on January 1, 2013. It was later removed on July 1, 2013.
HEART BEAT FORMULA is one of two songs in the DDR arcade series that runs at 230 BPM, with the other being 晴天Bon Voyage from DDR 2013.
In the international iTunes release of the jubeat saucer ORIGINAL SOUNDTRACK -Kaori & Kotaro- album, HEART BEAT FORMULA is capitalized as Heart Beat Formula.
Official Song Comment
Edit
Untranslated.
Difficulty & Notecounts
Edit
Game
SP Difficulty
DP Difficulty
BEG
BAS
DIF
EXP
CHA
BAS
DIF
EXP
CHA
Notecounts/Freeze Arrows
109/6
263/4
342/23
457/10
-
248/3
350/5
430/2
-
DDR X3 VS 2ndMIX→Present
4
7
10
13
-
7
10
13
-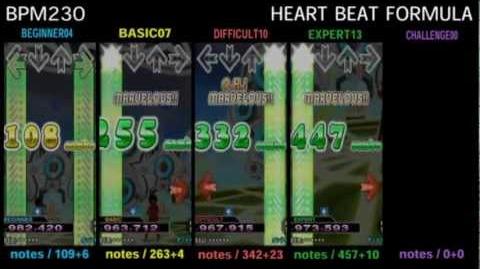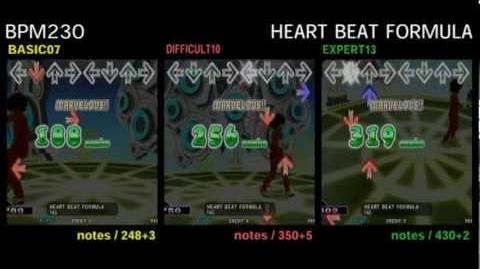 Community content is available under
CC-BY-SA
unless otherwise noted.