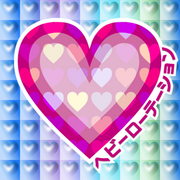 Song Information
Edit
Cover Version
Edit
Artist: ♪♪♪♪♪
Original Artist: AKB48
BPM: 155-178
Album: ヘビーローテーション single (2010)
First Appearance: DanceDanceRevolution X3 VS 2ndMIX Length: 2:03
Original Version
Edit
Artist: AKB48
BPM: 155-178
Album: ヘビーローテーション single (2010)
First Appearance: jubeat copious
Other Appearances:
DanceEvolution ARCADE
REFLEC BEAT limelight
Length: TBD
To be added later.
Remixes/Song Connections
Edit
This version of ヘビーローテーション found on DanceDanceRevolution X3 VS 2ndMIX is a cover version. The original version by AKB48 is found in jubeat copious, DanceEvolution ARCADE, DanceDanceRevolution (2013), and REFLEC BEAT limelight.
ヘビーローテーション later appeared on AKB48's 2010 album, ここにいたこと (Koko ni ita koto).
ヘビーローテーション is one of the six default licensed songs in DanceDanceRevolution X3 VS 2ndMIX..
The original version of ヘビーローテーション has different charts from the cover version on DDR X3 VS 2ndMIX, but they still have the same ratings.
Despite being changed into the original version on DDR (2013), ヘビーローテーション's artist is still not displayed. This is due to the cover art for the cover version being retained.
Official Song Comment
Edit
None.
Community content is available under
CC-BY-SA
unless otherwise noted.