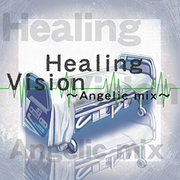 Song Information
Artist: 2MB
BPM: 46-196(49-196)
Arrangement: Yuichi Asami
First Appearance: Dance Dance Revolution 5thMIX CS
First AC Appearance: DDRMAX -Dance Dance Revolution 6thMIX-
Length: 1:40
Lyrics
None.
Remixes/Song Connections
This is a remix of Healing Vision by DE-SIRE, originally from Dance Dance Revolution 5thMIX.
Trivia
Healing Vision ~Angelic mix~'s displayed BPM is 46-196. However, it is actually 49-196, just like the original Healing Vision.
On the DDRX scale, this is the only Konami Original song before DDRMAX that reached level 14 (Doubles Expert).
Official Song Comment
Untranslated.