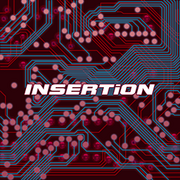 Song Information
Edit
Artist: NAOKI underground
BPM: 110-225
Composition/Arrangement: Naoki Maeda
Genre: EURO TRANCE
First Appearance: Dance Dance Revolution 5thMIX

Other Appearances:
beatmaniaIIDX 5th style
DDRMAX -DanceDanceRevolution- US CS
Length: 1:43
None.
Remixes/Song Connections
Edit
A remix, named INSERTiON (Machine Gun Kelly Mix) and credited to Thuggie D., appeared in Dance Dance Revolution ULTRAMIX.
INSERTiON marks NAOKI's first use of his NAOKI underground alias.
Community content is available under
CC-BY-SA
unless otherwise noted.