Song Information
Edit
Artist: NM
BPM: 125
Composition/Arrangement: NAOKI MAEDA
Video Type: Full+Overlay (X3 VS 2ndMIX), None (DDR 2013→Present)
First BEMANI Appearance: BOOM BOOM DANCE/Rhythm Party DLC Song Pack No.5
First DDR Appearance: DanceDanceRevolution X3 VS 2ndMIX
Length: 1:47
Unknown, except for
Love is the power

Song Connections / Remixes
Edit
LOVE IS THE POWER -Re:born- is a remix of LOVE IS THE POWER, the ending credits theme for Dance Dance Revolution 2ndReMIX.
A long version of LOVE IS THE POWER -Re:born- can be found on the Dance Dance Revolution 2ndMIX ORIGINAL SOUNDTRACK presented by ダンスマニア album rerelease.
LOVE IS THE POWER -Re:born- was the last special ENCORE EXTRA STAGE song on DanceDanceRevolution X3 VS 2ndMIX. It is special in that it requires a Perfect Full Combo instead of the usual Full Combo that Encore Extra Stages have always required (as shown by the ATTACK!! PERFECT FULL COMBO! text at the beginning of the background video), presumably to compensate for the lack of difficulty available in the song. To access as an Encore Extra Stage, the player had to get a AA rank on either Tohoku EVOLVED, TRIP MACHINE EVOLUTION, or PARANOiA Revolution on Expert difficulty. As of November 5, 2012, all boss songs are fully unlocked.
The background video features cameos from the songs 隅田川夏恋歌, London EVOLVED, Tohoku EVOLVED, BRILLIANT 2U(Orchestra Groove), TRIP MACHINE EVOLUTION, and PARANOiA Revolution, as well as the characters Emi and Yuni (although the latter is shown in a brief gameplay clip that appears in the background video).
The Basic chart borrows heavily from the Basic chart for the original LOVE IS THE POWER.
As of DanceDanceRevolution (2013), the background video was removed.
LOVE IS THE POWER -Re:born- is the only EXTRA/ENCORE EXTRA STAGE song in any DDR game that actually does not originate from a DDR game.
Background Video
Edit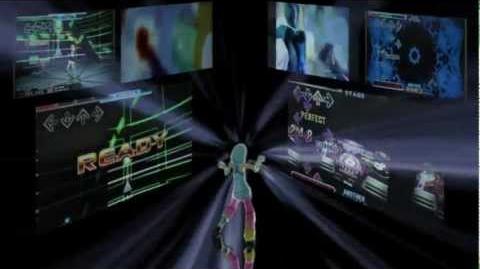 Official Song Comment
Edit
Untranslated.
Difficulty & Notecounts
Edit
Game
SP Difficulty
DP Difficulty
BEG
BAS
DIF
EXP
CHA
BAS
DIF
EXP
CHA
Notecounts/Freeze Arrows
85/1
156/4
209/8
276/8
-
158/4
209/8
276/8
-
DDR X3 VS 2ndMIX→Present
1
5
7
10
-
5
7
10
-
Community content is available under
CC-BY-SA
unless otherwise noted.