Song Information
Edit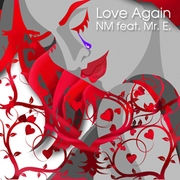 Artist: NM feat. Mr. E.
BPM: 57-70
Composition: NAOKI MAEDA
Arrangement: Cyril
Lyrics: Walter B.
Vocals: Mr. E.
First Appearance: DanceDanceRevolution X2
Other Appearances:
Length: 1:54
In time
Your broken heart will mend
You'll come around again
And learn to love
Someone new

A chance to start your life again
A chance for you to win
With someone who's
Been needing you

All this time
All the love
You can give
All your life
Waiting for the time to live
The time to let go

It's time to put the past behind you now
With the wings of love take to the clouds
Open up your heart
Let your feelings
Make another start

There is always hope for you
As you search the world for someone true
Give it one more try
There's another who's been
Searching for you

I really want to love
To find the love
And share it with you
With you

Song Connections/Remixes
Edit
None.
Love Again is the last new song that is unlocked by reaching a certain Enjoy Level on DanceDanceRevolution X2 (in this case, Enjoy Level 28).
Difficulty & Notecounts
Edit
Game
SP Difficulty
DP Difficulty
BEG
BAS
DIF
EXP
CHA
BAS
DIF
EXP
CHA
Notecounts/Freeze Arrows
56/0
84/11
143/28
196/34
-
93/18
154/26
199/31
-
DDR X2→Present
2
4
6
8
-
3
6
8
-
DDR X2 CS
2
4
6
8
-
3
6
8
-
DDR HOTTEST PARTY 3/MUSIC FIT
☆1
☆2
☆4
☆6
-
-
-
-
-
Community content is available under
CC-BY-SA
unless otherwise noted.