Song Information
Edit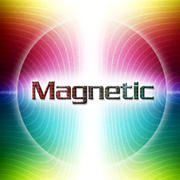 Artist: Sota Fujimori
Composition/Arrangement: Sota Fujimori
BPM: 40-160 (DDR), 160 (jubeat)
Length: 1:57
First BEMANI Appearance: jubeat saucer
First DDR Appearance: DanceDanceRevolution (2013)
Other Appearances:
jubeat plus saucer pack 11
None.
Song Connections / Remixes
Edit
Magnetic was added to DanceDanceRevolution 2013 as part of the jubeat, GITADORA, DDR's Triple Journey (jubeat,GITADORA,DDRのTriple Journey) event. It can be unlocked since August 5, 2013 by playing any song by Sota Fujimori (e.g. Empathetic, New Decade, etc.).

Magnetic is the first song from jubeat saucer to be crossovered to the DanceDanceRevolution series.

Magnetic marks the first Sota Fujimori song in the DanceDanceRevolution series with its Expert chart being rated Level 15.
Magnetic marks Sota Fujimori's first song to crossover any DanceDanceRevolution game. Empathetic does not count because it also debuted in other BEMANI games.
Magnetic received a new Challenge chart on October 1, 2013.

Magnetic's Challenge chart is the first chart to use 64th notes properly.
It also has the fastest use of 24ths and the longest stream of 48th notes of any song. (24ths at 160 BPM and a stream of seven 48th notes at 80 BPM)
Song Production Information
Edit
Untranslated.
Difficulty & Notecounts
Edit
Game
Single
Doubles
BEG
BAS
DIF
EXP
CHA
BAS
DIF
EXP
CHA
Notecounts / Freeze Arrows / Shock Arrows
129 / 1
268 / 39
383 / 49
563 / 55
646 / 85 / -
259 / 44
383 / 49
558 / 51
622 / 85 / -
DDR (2013)→Present
3
7
10
15
17
7
11
15
17
Groove Radar Values
Edit
Groove Radar Values
Single
Doubles
BEG
BAS
DIF
EXP
CHA
BAS
DIF
EXP
CHA
Stream
?
?
66.000
(66)
97.333
(97)
121.739
(121)
?
66.000
(66)
96.333
(96)
119.658
(119)
Voltage
?
?
?
108.375
(108)
114.573
(114)
?
?
108.375
(108)
111.474
(111)
Air
?
?
?
18.182
(18)
25.455
(25)
?
?
12.727
(12)
20.000
(20)
Freeze
?
?
?
51.657
(51)
69.286
(69)
?
?
49.657
(49)
68.029
(68)
Chaos
0.000
(0)
?
?
105.901
(105)
113.743
(113)
?
?
106.861
(107)
114.569
(114)