Song Information
Edit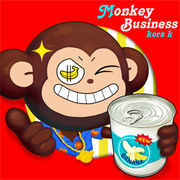 Artist: kors k
Composition/Arrangement: Kosuke Saito
BPM: 80-160
Length: 1:57
First Appearance: DanceDanceRevolution (2013)
None.
Song Connections / Remixes
Edit
None.
Monkey Business is the first EXTRA STAGE song of DanceDanceRevolution 2013.

Monkey Business received a new Challenge chart on June 26, 2013 (EXTRA STAGE Level 4). It was accessible depending on the sum of the difficulties on the credit and number of stages:

2 stages: 31+
3 stages: 46+
4 stages: 61+
5 stages: 76+
As of August 1, 2013 (EXTRA STAGE Level 6), Monkey Business is available for regular play on all difficulties.

Monkey Business marks Kosuke Saito's very first boss song for the DanceDanceRevolution series. However, his hardest song in the DDR series is PARANOiA (kskst mix) from DDR X3 VS 2ndMIX, having a chart rated Level 17.
Despite being musically 160 BPM, the characters will always do dance routines for songs with a maximum BPM between 101 and 130. This is due to having a long section where the BPM is 80.
On April 18, 2013, Monkey Business was accidentally replaced by Elemental Creation, the final unlockable song of the 私立BEMANI学園 (Private BEMANI Academy) event, as the EXTRA STAGE. This was fixed with a patch.
Originally, Monkey Business used the mirror ball dance stage. However, as of the 04/18/2013 update, it uses the black-and-yellow dance stage.

Prior to the update, the latter dance stage was also used on Asian DDR 2013 cabinets.

Monkey Business is the second song with a Challenge chart exclusive to EXTRA STAGE, after Elemental Creation.
Song Production Information
Edit
Untranslated.
Difficulty & Notecounts
Edit
Game
Single
Doubles
BEG
BAS
DIF
EXP
CHA
BAS
DIF
EXP
CHA
Notecounts / Freeze Arrows / Shock Arrows
118 / 0
253 / 23
238 / 49
445 / 17
651 / 52 / -
255 / 23
353 / 34
449 / 9
635 / 59 / -
DDR (2013)→Present
3
6
9
13
16
7
10
13
16
Groove Radar Values
Edit
Groove Radar Values
Single
Doubles
BEG
BAS
DIF
EXP
CHA
BAS
DIF
EXP
CHA
Stream
20.000
(20)
43.333
(43)
59.667
(59)
76.333
(76)
122.360
(122)
43.667
(43)
60.667
(60)
77.000
(77)
123.077
(123)
Voltage
23.000
(23)
46.000
(23)
80.667
(80)
97.833
(97)
133.668
(133)
46.000
(46)
80.667
(80)
97.833
(97)
133.668
(133)
Air
9.091
(9)
36.364
(36)
27.273
(27)
36.364
(36)
30.909
(30)
32.727
(32)
45.455
(45)
25.455
(25)
27.273
(27)
Freeze
0.000
(36)
36.371
(36)
66.543
(66)
29.314
(29)
58.886
(58)
33.714
(33)
51.886
(51)
8.514
(8)
61.543
(61)
Chaos
5.650
(5)
16.250
(16)
58.800
(58)
103.156
(103)
133.900
(133)
16.850
(16)
61.750
(61)
103.473
(103)
139.006
(139)