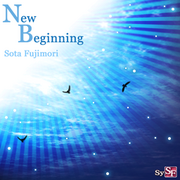 Song Information
Edit
Artist: Sota Fujimori
BPM: 148
Composition/Arrangement: Sota Fujimori
First Appearance: DanceDanceRevolution X3 VS 2ndMIX
Length: 1:53
None.
Remixes/Song Connections
Edit
A long version of New Beginning can be found on the SYNTHESIZED4 album.
New Beginning marks the first time Sota Fujimori is credited to his full name in the DanceDanceRevolution series.
New Beginning is unlocked on DanceDanceRevolution X3 VS 2ndMIX by reaching Enjoy Level 70.
At the bottom right corner of the album art, the SySF logo can be seen.
Official Song Comment
Edit
Untranslated.
Difficulty and Notecounts
Edit
Game
SP Difficulty
DP Difficulty
Beginner
Basic
Difficult
Expert
Challenge
Basic
Difficult
Expert
Challenge
Notecounts/Freeze Arrows(Shock Arrows)
101/1
171/2
253/35
343/34
314/34(29)
188/13
255/30
329/31
305/31(24)
DDR X3 VS 2ndMIX→Present
3
5
9
11
12
6
8
11
12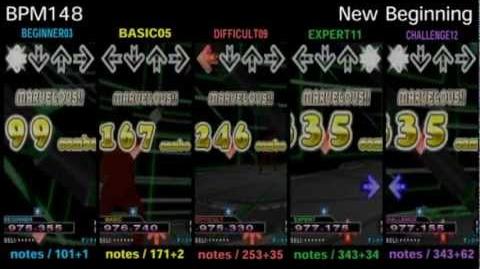 Community content is available under
CC-BY-SA
unless otherwise noted.