Song Information
Edit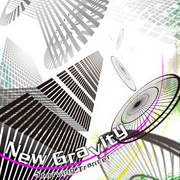 Artist: Starving Trancer
Composition/Arrangement: Starving Trancer
BPM: 154
Length: 1:42
First Appearance: DanceDanceRevolution (2013)
None.
Song Connections / Remixes
Edit
None.
New Gravity marks Starving Trancer's first standalone appearance in the DanceDanceRevolution series.

It's also his first standalone contribution in any BEMANI game.

New Gravity also marks the first time Starving Trancer has made a song part of the default songlist in a DanceDanceRevolution game.
Starving Trancer uses emoticons in his comment for New Gravity.

According to Starving Trancer, New Gravity is known as 新しい重力 (atarashī jūryoku) in Japanese.

New Gravity was added to jubeat saucer on August 19, 2013, as part of the Triple Journey unlock event.
New Gravity's Challenge charts were added on October 31, 2013.
Song Production Information
Edit
Nice to meet you, I'm Starving Trancer.
You may have met me under other names such as Another Infinity, HHH×MM×ST etc. ^-^-^-^-^
The title of this song is "Atarashii Juuryoku" in Japanese, but if you come to know under the more charmful name "New Gravity", I'll be really happy.
I'm also on Twitter as Starving Trancer, so please let me know your thoughts on the song! ^-^-^-^

(Starving Trancer)
Difficulty & Notecounts
Edit
Game
Single
Doubles
BEG
BAS
DIF
EXP
CHA
BAS
DIF
EXP
CHA
Notecounts / Freeze Arrows / Shock Arrows
117 / 9
218 / 4
301 / 1
376 / 1
471 / 1
210 / 4
301 / 1
375 / 1
? / ?
DDR (2013)→Present
3
6
9
12
14
6
9
12
?
Groove Radar Values
Edit
Groove Radar Values
Single
Doubles
BEG
BAS
DIF
EXP
CHA
BAS
DIF
EXP
CHA
Stream
?
?
?
73
—
?
?
72.7
—
Voltage
?
?
?
57.7
—
?
?
57.7
—
Air
?
?
?
?
—
?
?
?
—
Freeze
?
?
?
?
—
?
?
?
—
Chaos
?
?
?
?
—
?
?
?
—