Song Information
Edit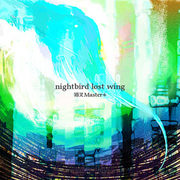 Artist: 猫叉Master+
Composition/Arrangement: Naoyuki Sato
BPM: 190
Length: 1:47
First Appearance: DanceDanceRevolution (2013)
None.
Song Connections / Remixes
Edit
nightbird lost wing is a sequel to Far east nightbird from jubeat knit.
nightbird lost wing marks Naoyuki Sato's first use of his 猫叉Master+ alias in the DanceDanceRevolution series.

nightbird lost wing also marks Naoyuki Sato's first song in a default songlist in a DanceDanceRevolution game.

nightbird lost wing is the only Konami original song part of DDR 2013's default songlist with stops.
Song Production Information
Edit
Wings plucked, thinking of its hometown in its hazy consciousness, but
continuing to fly with fleeting strength.
A continuation of Far east nightbird, made with a homing instinct theme.
Perhaps while listening to this song you can image a scene of being
chased by something, continuing to fly while thinking earnestly of your
family and friends. Maybe then you'll be able to enjoy the song even
more.
Please let your imagination roam free and enjoy this song.

(猫叉Master+)
Difficulty & Notecounts
Edit
Game
Single
Doubles
BEG
BAS
DIF
EXP
CHA
BAS
DIF
EXP
CHA
Notecounts / Freeze Arrows / Shock Arrows
90 / 0
180 / 21
334 / 24
496 / 17
- / - / -
156 / 15
327 / 25
493 / 13
- / - / -
DDR (2013)→Present
3
7
10
14
—
7
10
14
—
Community content is available under
CC-BY-SA
unless otherwise noted.