Song Information
Edit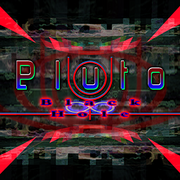 Artist: Black∞Hole
Composition/Arrangement: NM SEQUENCE UNLIMITED
Genre: SuperNOVA2 BEAT EX (SuperNOVA2ビートEX)
BPM: 50-220 (DDR), 50-270 (IIDX)
Length: 1:43
First Appearance: DanceDanceRevolution SuperNOVA2
Other Appearances:
None.
Song Connections / Remixes
Edit
Pluto is the third ENCORE EXTRA STAGE song of DanceDanceRevolution SuperNOVA2.

It also appears as a FINAL STAGE song on the North American PlayStation 2 version of DDR X.

In beatmaniaIIDX 15 DJ TROOPERS CS, some portions of the song run at double BPM.
Pluto, Pluto Relinquish, Pluto The First, PARANOiA ~HADES~, and 冥 are all related in that they form the story of how the planet Pluto came to be. All of these songs appear in the Pluto Story course on DDR X2, with Pluto appearing second.
Pluto has many BPM changes and stops, for which it is known for, that are the primary cause of difficulty of the song. As such, all charts, even the Beginner chart, have Chaos values.

A previous boss song, CHAOS, also does the same.

Pluto's BPM changes are as follows)

(50 → 110 → stop → 115 →2 stops → 120 → 115 → stop → 200 → 220 → 5 stops →120 → stop → 125 → stop → 130 → 135 → 130 → 125 → 120 → 115 → 110 → 105 → 103.1416 → 50.1

The Chaos values for the Single Play charts are as follows (these values are as of DDR X2):

Beginner: ???
Basic: ???
Difficult: ???
Expert: 116
Challenge: 145

Pluto's Challenge charts are tied with Monkey Business's Challenge charts for having the most notes in 4 beats, at 29 notes.
All of Pluto's charts except for the Challenge charts were given timing fixes on DDR X.
Pluto is the third song to have a true BPM change during gameplay that isn't simply doubling nor cutting BPM in half nor BPM change outside of gameplay. The other 2 songs that do this are WILD RUSH and MAXX UNLIMITED.
Official Song Comment
Edit
Pluto. And that's all I have to say.

<Black∞Hole>
Difficulty & Notecounts
Edit
Game
SP Difficulty
DP Difficulty
BEG
BAS
DIF
EXP
CHA
BAS
DIF
EXP
CHA
Notecounts/Freeze Arrows
98/0
195/2
293/17
370/10
516/10
201/2
296/2
380/13
525/6
DDR SuperNOVA2
☆2
☆6
☆8
☆9
☆10
☆6
☆8
☆9
☆10
DDR X→Present
6
9
12
14
16
9
13
14
17
DDR SuperNOVA2 JP CS
☆2
☆6
☆8
☆9
☆10
☆6
☆8
☆9
☆10
DDR X US CS
6
9
12
14
16
9
13
14
17
DDR S+
6
9
12
14
-
-
-
-
-