Song Information
Edit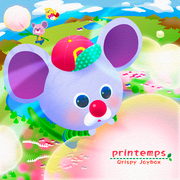 Artist: Qrispy Joybox
Composition/Arrangement: Tatsuya Iyama
BPM: 168
Length: 1:50
First DDR Appearance: DanceDanceRevolution (2013)
None.
Song Connections / Remixes
Edit
None.
printemps was added to DanceDanceRevolution 2013 on October 23, 2013, as a default song.

printemps, Windy Fairy, and Wow Wow VENUS are the first REFLEC BEAT crossovers in DDR 2013.
printemps also marks Tatsuya Iyama's first crossover song in the DanceDanceRevolution arcade series.

"printemps" is the French word for "spring".
Difficulty & Notecounts
Edit
Game
Single
Doubles
BEG
BAS
DIF
EXP
CHA
BAS
DIF
EXP
CHA
Notecounts / Freeze Arrows / Shock Arrows
123 / 0
173 / 6
216 / 13
396 / 6
- / - / -
? / ?
? / ?
410 / 8
- / - / -
DDR (2013)→Present
3
6
10
13
—
6
10
14
—
Groove Radar Values
Edit
Groove Radar Values
Single
Doubles
BEG
BAS
DIF
EXP
CHA
BAS
DIF
EXP
CHA
Stream
—
—
—
—
—
—
—
—
—
Voltage
—
—
—
—
—
—
—
—
—
Air
—
—
—
—
—
—
—
—
—
Freeze
—
—
—
—
—
—
—
—
—
Chaos
—
—
—
—
—
—
—
—
—