Song Information
Edit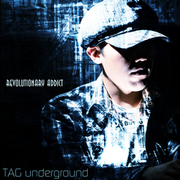 Artist: TAG underground
Composition/Arrangement: TAG underground
Video Type: Stage (X3 VS 2ndMIX→Present)
BPM: 174 (174-696) (174→696→174)
Length: 1:46
First Appearance: DanceDanceRevolution X3 VS 2ndMIX
None.
Song Connections / Remixes
Edit
REVOLUTIONARY ADDICT is related to PARANOiA Revolution by title.
REVOLUTIONARY ADDICT shares some similarities with roppongi EVOLVED from DanceDanceRevolution X2, as they are both composed by TAG and under his TAG underground alias.

Furthermore, REVOLUTIONARY ADDICT's Challenge chart shares similarities with roppongi EVOLVED's Expert chart, particularly roppongi EVOLVED ver.A.

REVOLUTIONARY ADDICT also shares some similarities with PRANA from jubeat saucer. Coincidentally, they were made at almost the same time for their respective games as part of the KONAMI Arcade Championship 2012 event (REVOLUTIONARY ADDICT being to DDR X3 VS 2ndMIX and PRANA to jubeat saucer).
Find You Again (sky)
One Sided Love (light beams)
One Sided Love (rainbow)
Until the End (cubes)
Seasons (particles)
New York EVOLVED (tunnel)
Find You Again (sky)
One Sided Love (light beams)
Seasons (particles)
Find You Again (sky)
The Danger background animation from Dance Dance Revolution EXTREME also appears briefly during the brief 696 BPM speedup.
TAG himself appears on the album art, like with Diamond Dust and Cosmic Hurricane.
REVOLUTIONARY ADDICT is the first TAG song under his TAG underground alias that is not a boss song.
REVOLUTIONARY ADDICT is one of the few Konami originals from DDR X3 VS 2ndMIX that haven't appeared in a DDR original soundtrack yet.
REVOLUTIONARY ADDICT's background video was removed from DDR (2013) due to technical issues. However, it was later readded in an update.
REVOLUTIONARY ADDICT reaches the highest BPM at any point in a TAG song (including aliases), at 696 BPM, beating roppongi EVOLVED ver.D's 680 BPM.
Background Video
Edit
Official Song Comment
Edit
Untranslated.
Difficulty & Notecounts
Edit
Game
Single
Doubles
BEG
BAS
DIF
EXP
CHA
BAS
DIF
EXP
CHA
Notecounts / Freeze Arrows / Shock Arrows
97 / 4
221 / 18
293 / 16
449 / 25
591 / 18 / -
214 / 10
284 / 37
423 / 11
585 / 18 / -
DDR X3 VS 2ndMIX→Present
3
7
10
13
16
6
9
13
16
Groove Radar Values
Edit
Groove Radar Values
Single
Doubles
BEG
BAS
DIF
EXP
CHA
BAS
DIF
EXP
CHA
Stream
18.7
42.3
56.3
86.3
125.5
41
54.7
81.3
132.5
Voltage (X3)
21.8
36.5
43.8
73.2
111
29.2
43.8
73.2
111
Voltage (DDR 2013)
21.8
36.5
43.8
73.2
↓108.5
29.2
43.8
73.2
↓108.5
Air
1.8
21.8
18.2
16.4
54.5
16.4
30.9
16.4
36.4
Freeze
11.3
51.7
47.5
69.5
55.2
33.8
96.8
58.3
57.5
Chaos
0
1.3
21.9
87.5
115.3
1.1
14.2
79.3
118