Song Information
Edit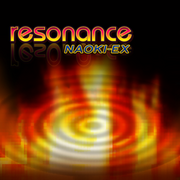 Artist: NAOKI-EX
Original Artist: T.M.Revolution
BPM: 165
Arrangement/Vocals: NAOKI MAEDA
Guitar: Asaki
Album: resonance single (2008)
First Appearance: ダンスダンスレボリューション フルフル♪パーティー
First AC Appearance: DanceDanceRevolution X2
Length: 1:36
Tsunaida tamashii no hi ga
mune wo sasu nara
Kotoba yori motto tsuyoi hibiki ga
ima kikoeru ka?

Roku ni me mo awasazu
unmei ni made karandeku
Yukisaki moro kabutteru
kuenai yoru wo hashire

Fukaoi shisugita mabushisa ga
warui yume ni tsuzuite mo

Tsunaida tamashii no hi ga
mune wo sasu nara
Kotoba yori motto tsuyoi hibiki ga
ima kikoeru ka?

Deatta wake wa dou datte ii
mikitsukerarete
Fureta shunkan no kizu no fun dake
tashika ni nareru

Uso mo gisou mo aru
yoreta sekai wo teri tsukete
Moroto mo bukkowaresona
muchuu no hate ga mitai

'Hitori ni shinai' to tsukamu te wa
Yasashisa kara too sugite

Subete wo yakusoku dekiru
asu wa nai kara
Kinou yori chotto mashi na kizuna wo
shinjite miyou ka

Tsunaida tamashii no hi ga
mune wo sasu nara
Kotoba yori motto tsuyoi hibiki ga
ima kikoeru ka?

Deatta wake wa dou datte ii mikitsukerarete
Fureta shunkan no kizu no fun dake tashika ni nareru

Song Connections / Remixes
Edit
None.
resonance was used as the first opening theme of the SOUL EATER (ソウルイーター) anime.
resonance marks the first and (to date) only collaboration between Naoki Maeda and Asaki.

resonance also marks the first non-crossover appearance of Asaki in the DanceDanceRevolution series. He would later make his first original song in the DDR series, お米の美味しい炊き方、そしてお米を食べることによるその効果。, in DanceDanceRevolution 2013.
It is also the first and only song in the DanceDanceRevolution series in which Naoki Maeda actually sings in.

resonance was the only song from DDR フルフル♪パーティー to be crossovered to DDR X2.
Difficulty & Notecounts
Edit