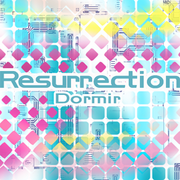 Song Information
Edit
Artist: Dormir
BPM: 140
Composition/Arrangement: Tomosuke Funaki
Lyrics/Vocals: crimm
First Appearance: DanceDanceRevolution X3 VS 2ndMIX
Length: 1:45
rusty keys
cute spoon
stuffed animals
toy crown
glass bottles
wooden staff
sharp scissors
pocket watches

music box
tattered umbrella
pink ore
pieces of jewelry
hourglass
various shells
mineralogical specimens

quill pen
paper doilies
flock paper
hair ornaments
bird cages
antique lamp
wrinkled parchment

The end of the world
The World of Chaos
What are you dreaming?
Where is the treasure?
Catch a falling star
Think a little more
What can I do?
...find the answer

I don't know yet
Nobody knows yet...

Remixes/Song Connections
Edit
An altered, extended version of Resurrection can be found on Dormir's first album, Petit March.
Resurrection marks the debut of Dormir (composer Tomosuke and vocalist crimm) in the DanceDanceRevolution series.
Resurrection is unlocked on DanceDanceRevolution X3 VS 2ndMIX by reaching Enjoy Level 80. Like with every other song, Resurrection is available by default on all subsequent games.
Official Song Comment
Edit
Untranslated.
Difficulty & Notecounts
Edit
DanceDanceRevolution difficulty rated from 1 to 20.
Game
SP Difficulty
DP Difficulty
BEG
BAS
DIF
EXP
CHA
BAS
DIF
EXP
CHA
Notecounts/Freeze Arrows
88/8
144/26
203/34
266/23
-
144/26
204/26
265/23
-
DDR X3 VS 2ndMIX→Present
2
5
7
10
-
5
8
10
-