Song Information
Edit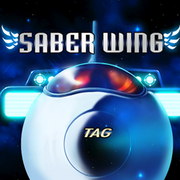 Artist: TAG
BPM: 74-222 (74-444)
Composition/Arrangement: TAG
Genre: SHOOTING WALTZ
First Appearance: DanceDanceRevolution X
Other Appearances:
beatmaniaIIDX 18 Resort Anthem
DanceDanceRevolution X CS
DanceDanceRevolution S
DanceDanceRevolution S+ DDR X Mega Hit Pack
Length: 1:47
None.
Song Connections/Remixes
Edit
A remix of this song by Akira Ishihara, titled SABER WING (Akira Ishihara Headshot mix) can also be found on DanceDanceRevolution X, as another boss song.
A remix titled SABER WING (satellite silhouette remix) is included in a line of EMI USB drives as a special bonus MP3. The artist is not credited but is presumably TAG.
This is one of the few songs to tripling or thirding the BPM.

This song's time signature 3/4 instead of 4/4.

SABER WING, along with the Starter Mode exclusive song HOW TO PLAY, marks TAG's debut in the DanceDanceRevolution series.

SABER WING also marks TAG's first original boss song for DDR.

SABER WING is the default EXTRA STAGE song of DanceDanceRevolution X.

During the location test versions, it was a Final Stage song, with On The Break being the Extra Stage.
However, on the console versions, SABER WING is not a boss song and is instead part of the default songs avialble for play immediately. Due to this, its CD graphic is not shown on the Console versions.
SABER WING is unlocked on DDR Dance Wars by completing the second sticker set of Stage 04.

SABER WING is one of the only two arcade version boss songs with Shock Arrows in its Challenge chart, with the other being Horatio. Pluto The First, a boss song from DDR HOTTEST PARTY, has Shock Arrows in its Challenge chart, yet is not a boss song on the arcade version of DDR X2.
As of beatmaniaIIDX 20 tricoro, SABER WING has its dedicated background video from DDR.
SABER WING is the only song that has appeared on every DDR game on the iOS platform so far (excluding DDR Freedom): DDR S, DDR S+, and DDR Dance Wars.
Background Video
Edit
Official Song Comment
Edit
Untranslated.
Difficulty & Notecounts
Edit
Game
SP Difficulty
DP Difficulty
BEG
BAS
DIF
EXP
CHA
BAS
DIF
EXP
CHA
Notecounts/Freeze Arrows(Shock Arrows)
162/0
258/24
346/33
442/24
389/18(59)
271/9
330/17
433/13
389/13(48)
DDR X
4
8
10
13
13
8
10
13
13
DDR X2→Present
4
8
10
13
13
8
↑12
13
13
DDR X CS
4
8
10
13
13
8
10
13
13
DDR S
4
8
10
13
-
-
-
-
-
DDR S+
4
8
10
13
-
-
-
-
-
DDR Dance Wars
4
8
10
13
-
-
-
-
-
Community content is available under
CC-BY-SA
unless otherwise noted.