Song Information
Edit
Artist: MAX MAXIMIZER VS DJ TOTTO
Composition/Arrangement: MAX MAXIMIZER, DJ TOTTO
Genre: GRAVIOL (グラヴィオール)
BPM: 90-182 (182→90→182→(9 stops)→182)
Length: 1:50
First Appearance: DanceDanceRevolution (2013) / beatmaniaIIDX 20 tricoro / GITADORA / jubeat saucer / pop'n music Sunny Park / REFLEC BEAT colette -Spring-
None.
Song Connections / Remixes
Edit
STULTI is part of the 私立BEMANI学園 (Private BEMANI Academy) event. The other songs are:
A previous MAX MAXIMIZER collaboration song, HAERETICUS, also has a Latin title.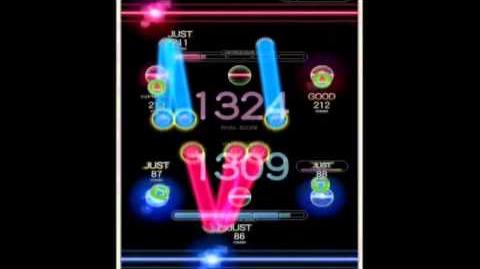 To unlock STULTI, you must get 100% on Friendship to MAX MAXIMIZER and DJ TOTTO. By playing the following games, you will get a certain percentage of Friendship towards unlocking STULTI:

REFLEC BEAT colette: 5%
beatmaniaIIDX 20 tricoro, DanceDanceRevolution: 1%
GITADORA, jubeat saucer, pop'n music Sunny Park: 0.5%

STULTI marks the first collaboration between Tatsuya Iyama and DJ TOTTO in BEMANI.

STULTI also marks the debut of DJ TOTTO in the DanceDanceRevolution, beatmaniaIIDX, GuitarFreaks/DrumMania, jubeat, and pop'n music series.
STULTI also marks Tatsuya Iyama's first use of his MAX MAXIMIZER alias outside of the beatmaniaIIDX and REFLEC BEAT series.

STULTI is the second time MAX MAXIMIZER collaborates with another artist in BEMANI, after HAERETICUS with D.J.Amuro from beatmaniaIIDX 19 Lincle and REFLEC BEAT limelight.
Stulti means "fool" in Latin.
STULTI's BPM starts at 182, then slows down to 90 at the beginning of the song, and speeds back up to 182.

Despite this, in REFLEC BEAT colette, the BPM was initially displayed as simply 182. This was later changed back to 90-182 on an unknown date.
In REFLEC BEAT colette, the speed of the objects may double up to 364 BPM.

At some points in STULTI, regular 4th notes may fall on blue 8th notes instead. This is because there are stops in the song, with most of them lasting 0.165 seconds (1/8 beat).

As a result, even the Beginner chart has a Chaos value.

STULTI's genre, GRAVIOL (グラヴィオール), is a misspelling of "gravior", which means heavy in Latin.
Despite not being the final unlockable song of the 私立BEMANI学園 event, STULTI is considered one of the hardest songs in the REFLEC BEAT series, along with HAERETICUS, Valanga, and Elemental Creation (also from the 私立BEMANI学園 event).
Song Production Information
Edit
MAX MAXIMIZER
Edit
Untranslated.
Untranslated.
Difficulty & Notecounts
Edit
Game
Single
Doubles
BEG
BAS
DIF
EXP
CHA
BAS
DIF
EXP
CHA
Notecounts / Freeze Arrows / Shock Arrows
112 / 22
230 / 18
335 / 30
525 / 17
- / - / -
232 / 33
336 / 30
523 / 18
- / - / -
DDR (2013)→Present
4
9
12
15
—
9
12
15
—
Groove Radar Values
Edit
Groove Radar Values
Single
Doubles
BEG
BAS
DIF
EXP
CHA
BAS
DIF
EXP
CHA
Stream
20.3
42
61.3
96.3
—
42.3
61.7
96
—
Voltage
27.8
48.8
62.8
90.7
—
48.8
62.8
90.7
—
Air
3.6
32.7
36.4
32.7
—
30.9
32.7
25.5
—
Freeze
81.3
65.1
82.7
56.4
—
72.7
82.2
57.9
—
Chaos
0.7
9.6
48
111.8
—
11.8
47
113.5
—