Song Information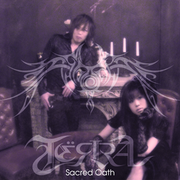 Artist: TЁЯRA
BPM: 170
Composition/Lyrics/Vocals: jun
Arrangement: NAOKI MAEDA
First Appearance: DanceDanceRevolution X2
Other Appearances:
DanceDanceRevolution X2 US CS
DanceDanceRevolution HOTTEST PARTY 3/MUSIC FIT
REFLEC BEAT
REFLEC BEAT plus Music Pack 18
Length: 1:32
Lyrics
Japanese
消えない傷の痕 両翼は破れて 
千切れ散る精神(こころ) 只, 其の果てに

もしも 君の未来(あす)を護れるなら 
其の全てを 僕は, 捧げたい

声に出来ない 君への想いは 
胸の奥 光宿す 
君が残した 微笑みの記憶は 
漆黒に灯る希望

ほら, 回帰へと続く 永遠(とわ)の宿命(さだめ)を越えて 
きっと 何時か辿り着く

世界中に, たった, 一つだけの・・・・

Remixes/Song Connections
A rock arrangement of Sacred Oath, named Sacred Oath (GFDM EDITION), appears in GuitarFreaks XG2 & DrumMania XG2: Groove to Live.
Trivia
Sacred Oath is one of the few TЁЯRA songs that hasn't appeared on any TЁЯRA album.
NAOKI and jun themselves appear on the album art.
Sacred Oath also appears in REFLEC BEAT as a Final Round-exclusive song. In subsequent arcade releases, it is available by default.
Sacred Oath's Challenge chart is unlockable on DanceDanceRevolution X2 by reaching Enjoy Level 50.
Official Song Comment
Unknown.
Difficulty & Notecounts
Game
SP Difficulty
DP Difficulty
BEG
BAS
DIF
EXP
CHA
BAS
DIF
EXP
CHA
Notecounts/Freeze Arrows
65/0
107/16
208/34
300/28
336/31
149/28
214/30
313/43
347/38
DDR X2→Present
2
4
7
11
※12
5
8
11
※13
DDR X2 CS
2
4
7
11
12
5
8
11
13
DDR HOTTEST PARTY 3/MUSIC FIT
☆2
☆4
☆6
☆8
-
-
-
-
-
※ Unlockable by reaching Enjoy Level 50 (DDR X2 only)