Song Information
Edit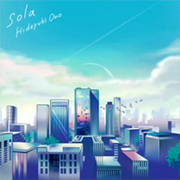 Artist: 小野秀幸
Composition/Arrangement: Hideyuki Ono
BPM: 135
Length: 1:46
First Appearance: DanceDanceRevolution (2013)  / jubeat saucer
None.
Song Connections / Remixes
Edit
A rock arrange of sola, titled sola (GITADORA ver.) and credited to 小野秀幸×96, appears in GITADORA.

However, unlike the original sola, sola (GITADORA ver.) is 148 BPM instead of 135 BPM.
sola is one of the songs in the jubeat, GITADORA, DDR's Triple Journey (jubeat, GITADORA, DDRの Triple Journey) event for DanceDanceRevolution 2013 and jubeat saucer. It was added on August 1, 2013, as the first unlockable song for both games.
sola marks Hideyuki Ono's first original song on the DanceDanceRevolution series.
On sola's album art, Hideyuki Ono's name is romanized.
"Sola" is a corruption of "sora" (空 / そら / ソラ), the Japanese word for "sky".
Song Production Information
Edit
None.
Difficulty & Notecounts
Edit
Game
Single
Doubles
BEG
BAS
DIF
EXP
CHA
BAS
DIF
EXP
CHA
Notecounts / Freeze Arrows / Shock Arrows
100 / 1
166 / 10
265 / 21
413 / 16
- / - / -
177 / 19
251 / 33
417 / 18
- / - / -
DDR (2013)→Present
2
5
9
12
—
5
9
12
—
Groove Radar Values
Edit
Groove Radar Values
Single
Doubles
BEG
BAS
DIF
EXP
CHA
BAS
DIF
EXP
CHA
Stream
?
?
?
?
—
?
?
?
—
Voltage
?
?
?
?
—
?
?
?
—
Air
?
?
?
?
—
?
?
?
—
Freeze
?
?
?
?
—
?
?
?
—
Chaos
?
?
?
?
—
?
?
?
—