Not to be confused with 創聖のアクエリオン from DanceDanceRevolution MUSIC FIT.
Song Information
Edit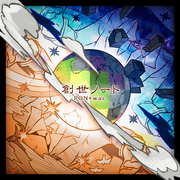 Artist: PON+wac
Composition/Arrangement: wac, PON
Vocals: PON
Genre: CREATOR (クリエイター)
BPM: 200
Length: 2:00
First Appearance: DanceDanceRevolution (2013) / beatmaniaIIDX 20 tricoro / GITADORA / jubeat saucer / pop'n music Sunny Park / REFLEC BEAT colette -Spring-
『さあ
混沌の海に
はじまりの旋律を
ともに奏でよう!』

光在れ!
闇を頒て!

黎明を呼び寄せる
空を描いた
運命を受け止める
大地踏み固めた

朽ち果てた嘘の箱庭に
忘れられたレクイエム

未来が宿る いのちのかけら
何度も 終わり迎えて 新しい神を待つ

星が導いた
生まれたての大地に花は咲くだろう

少年はもうすべて知ってしまった
世界を創る戯れは続いていく
ああ 幻想は 羽ばたき空を駆ける
笑顔も涙もみな 消えたこの世界で

今も僕が かみさまなら!

闇を抜けて!
未来となれ!
Song Connections / Remixes
Edit
創世ノート is part of the 私立BEMANI学園 (Private BEMANI Academy) event. The other songs are:
The GITADORA version of 創世ノート has additional guitars and drums.
Unlike other GITADORA versions of certain songs, 創世ノート's GITADORA version does not have the GITADOROCK logo on it's album art.
To unlock 創世ノート, you must get 100% on Friendship to PON and wac. By playing the following games, you will get a certain percentage on Friendship towards unlocking 創世ノート:

pop'n music Sunny Park: 5%
jubeat saucer, REFLEC BEAT colette: 1%
beatmaniaIIDX 20 tricoro, DanceDanceRevolution, GITADORA: 0.5%

創世ノート marks the first collaboration between PON and wac in BEMANI.
When played in beatmaniaIIDX, the 16-segment LED strip displays 創世ノート's title as "GENESIS NOTE".
創世ノート is the first song in the DDR arcade series with a BPM of 200 since CG Project from DanceDanceRevolution X2.
創世ノート's Single Expert chart has 490 notes, previously the highest number of notes of any Level 13 Single Expert chart as of DDR (2013). LOVE & JOY -Risk Junk Remix-'s Single Expert chart, which was added on July 18, 2013, beats this record at 541 notes.
Song Production Information
Edit
Untranslated.
Untranslated.
Difficulty & Notecounts
Edit
Game
Single
Doubles
BEG
BAS
DIF
EXP
CHA
BAS
DIF
EXP
CHA
Notecounts / Freeze Arrows / Shock Arrows
80 / 6
256 / 20
344 / 34
490 / 35
- / - / -
268 / 24
331 / 34
492 / 41
- / - / -
DDR (2013)→Present
2
8
10
13
—
8
10
14
—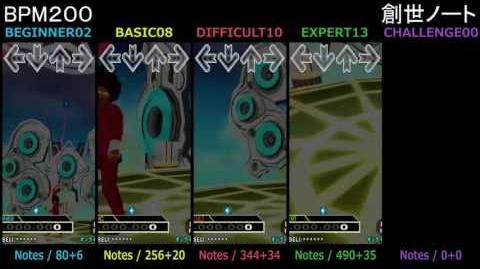 Community content is available under
CC-BY-SA
unless otherwise noted.