Song Information
Edit
Artist: TAG×U1-ASAMi
Composition/Arrangement: Yasuhiro Taguchi, Yuichi Asami
Genre: ORBITALIC REVOLUTION (オービタリックレボリューション)
BPM: 160
Length: 1:56
First Appearance: DanceDanceRevolution (2013) / beatmaniaIIDX 20 tricoro / jubeat saucer / pop'n music Sunny Park / REFLEC BEAT colette -Spring-
Some vocal samples can be heard, including "one for all", "all for you", and "synergy for angels".
Song Connections / Remixes
Edit
Synergy For Angels is part of the 私立BEMANI学園 (Private BEMANI Academy) event. The other songs are:
A rock arrange of Synergy For Angels, titled Synergy For Angels (GITADORA Ver.), appears on GITADORA.
To unlock Synergy For Angels, you must get 100% on Friendship to TAG and U1-ASAMi. By playing the following games, you will be awarded a certain percentage of Friendship towards unlocking Synergy For Angels:

DanceDanceRevolution: 5%
GITADORA, REFLEC BEAT colette: 1% (will also unlock Synergy For Angels (GITADORA Ver.))
beatmaniaIIDX 20 tricoro, jubeat saucer, pop'n music Sunny Park: 0.5%

Synergy For Angels marks the first collaboration between TAG and U1-ASAMi in BEMANI.

Synergy For Angels, along with Nostalgia Is Lost, also marks the debut of U1-ASAMi in the REFLEC BEAT series. He had previously done the photoshoots for the album arts of Wow Wow VENUS and UNLIMITED FIRE -Try to Sing Ver.-.
Synergy For Angels also marks U1-ASAMi's first original song on the pop'n music series.

Synergy For Angels shares the same BPM with another TAG song in DDR 2013, Another Phase.
Song Production Information
Edit
Untranslated.
Throughout the ages,
You play as one team, BEMANI.

<U1-ASAMi>
Difficulty & Notecounts
Edit
Game
Single
Doubles
BEG
BAS
DIF
EXP
CHA
BAS
DIF
EXP
CHA
Notecounts / Freeze Arrows / Shock Arrows
105 / 10
271 / 17
387 / 22
535 / 20
- / - / -
272 / 16
378 / 29
522 / 27
- / - / -
DDR (2013)→Present
3
7
10
14
—
7
10
14
—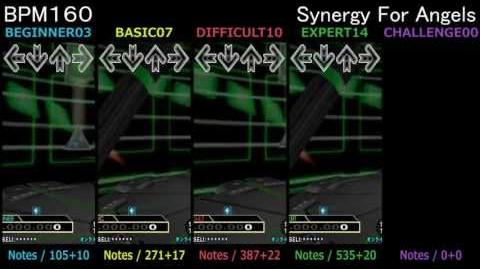 Community content is available under
CC-BY-SA
unless otherwise noted.