Song Information
Edit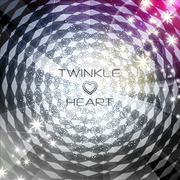 Artist: jun
Composition/Arrangement/Lyrics/Vocals: jun
BPM: 185
Length: 1:45
First Appearance: DanceDanceRevolution X3 VS 2ndMIX / jubeat copious APPEND
Other Appearances:
jubeat plus copious pack 08
jukebeat KONAMI music pack 18
星空の中 光が駆け抜けていく 
消える前に 願いを唱えてみた 
「定められた 運命さえ変えちゃうくらい 
ドラマティックな出来事 訪れますように」

夜更けの海 振り返ると君が微笑っていた

戸惑いながら 出会った瞬間君に恋をした 
初めて交わす言葉 視線を動かせなくて 
不意に触れた 指先が優しくて 
呼吸を忘れそうになる TWINKLE♡HEART

キラキラと瞬く 空がくれた 
夢を見るよりも輝く 奇跡という名の魔法

あの流星が心に 突き刺さったみたいな衝撃 
眩むほどの欠片が 散らばっていく 
それは胸の奥に響き渡って 
世界中 煌きに染める TWINKLE♡HEART
Hoshizora no naka hikari ga kakenukete iku
Kieru mae ni negai wo tonaete mita
( Sadame rareta unmei sae kae chau kurai
Doramatikkuna dekigoto otozuremasu yō ni )

Yofuke no umi furikaeru to kimi ga waratte ita

Tomadoinagara deatta shunkan kimi ni koi wo shita
Hajimete kawasu kotoba shisen wo ugokasenakute
Fui ni fureta yubisaki ga yasashikute
Kokyū wo wasure sō ni naru TWINKLE♡HEART

Kirakira to matataku sora ga kureta
Yume wo miru yori mo kagayaku kiseki to iu na no mahō

Ano ryūsei ga kokoro ni tsukisasatta mitaina shōgeki
Kuramu hodo no kakera ga chirabatte iku
Sore wa mune no oku ni hibiki watatte
Sekaijū kirameki ni someru TWINKLE♡HEART
Light is running through the starry sky
Before it disappeared, I tried shouting out a wish
"May a dramatic event happen such that
Even a predetermined fate will change"

At the beach late at night, whenever I turned around, you were smiling

Even though I was lost, the moment we met, I gave you my love
During the first words we exchanged, you made it so my gaze never shifted
Suddenly, we touched, and your fingertip was so gentle
I almost forgot to breathe, TWINKLE♡HEART

Glistening and twinkling, a gift from the sky
It shines even brighter than seen in a dream, this magic could be called a miracle

That falling star pierced my heart with a shock
So dizzying that fragments are scattering about
That shock resounds inside my chest
It's coloring the world with glitter, TWINKLE♡HEART
Song Connections / Remixes
Edit
TWINKLE♡HEART sounds similar to many of jun's happy hardcore boss songs in the DanceDanceRevolution series, including KIMONO♥PRINCESS and SILVER☆DREAM.

Unlike them, TWINKLE♡HEART features Japanese lyrics rather than English lyrics.

In a sense, TWINKLE♡HEART is a spiritual successor to SUNKiSS♥DROP.
TWINKLE♡HEART is jun's first original contribution to the jubeat series.
TWINKLE♡HEART is the first song unlocked in DanceDanceRevolution X3 VS 2ndMIX during the APPEND TRAVEL event. It is also playable in Happy Mode.
TWINKLE♡HEART's Challenge charts once held the highest Air value of 200, taking DYNAMITE RAVE ("AIR" Special)'s previous record of 200.

The Single Challenge chart currently has a new value of 165 as of DDR 2013. The Double Challenge chart has a currently unknown new value.
Official Song Comment
Edit
Untranslated.
Difficulty and Notecounts
Edit
Game
SP Difficulty
DP Difficulty
BEG
BAS
DIF
EXP
CHA
BAS
DIF
EXP
CHA
Notecounts/Freeze Arrows
(Shock Arrows)
89/12
155/10
287/16
359/52
231/36
(49)
155/11
286/13
356/23
229/38
(51)
DDR X3 VS 2ndMIX→Present
1
4
8
11
10
4
8
11
11
Groove Radar Values
Edit
Groove Radar Values
Difficulty
STR
VOL
AIR (X3)
AIR (2013)
FRE
CHA
Beginner
Single Basic
Single Difficult
Single Expert
Single Challenge
200
↓165
Double Basic
Double Difficult
Double Expert
Double Challenge
200
↓???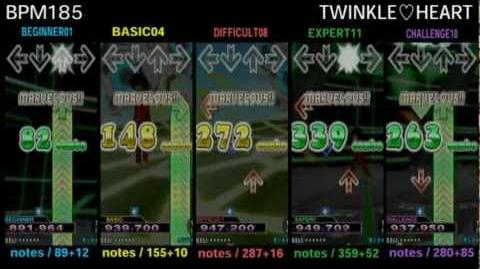 Community content is available under
CC-BY-SA
unless otherwise noted.