Song Information
Edit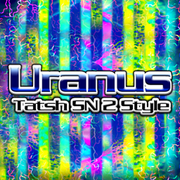 Artist: Tatsh SN 2 Style
BPM: 81-162
Composition/Arrangement: Tatsh
First Appearance: DanceDanceRevolution SuperNOVA2
Other Appearances:
Length: 1:45
None.
Song Connections/Remixes
Edit
Uranus is part of the GRAND CROSS series of songs.
Uranus marks Tatsuya Shimizu's first original song for the DanceDanceRevolution series.
Uranus can be unlocked on DDR Dance Wars as the 5th invite reward. However, invite reward sets rotate every three weeks.
Uranus is the only new Konami original on DDR SuperNOVA2 that does not have an artist comment on the game's official website.
Only Uranus's Difficult and Expert charts have freeze arrows in them.
Difficulty & Notecounts
Edit
Game
SP Difficulty
DP Difficulty
BEG
BAS
DIF
EXP
CHA
BAS
DIF
EXP
CHA
Notecounts/Freeze Arrows
125/0
204/0
282/6
344/7
402/0
204/0
282/7
344/7
402/0
DDR SuperNOVA2
☆1
☆3
☆5
☆8
☆10
☆3
☆5
☆8
☆10
DDR X→Present
3
6
9
11
13
6
9
11
13
DDR SuperNOVA2 CS
☆1
☆3
☆5
☆8
☆10
☆3
☆5
☆8
☆10
DDR X US CS
3
6
9
11
13
6
9
11
13
DDR S+
3
6
9
11
-
-
-
-
-
DDR Dance Wars
3
6
9
11
-
-
-
-
-