Song Information
Edit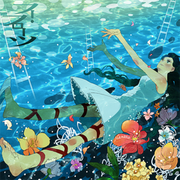 Artist: Nanako
Composition/Arrangement: Yoshihiko Koezuka
Lyrics: T_da
Vocals: Nanako
BPM: 180
Length: 1:51
First BEMANI Appearance: jubeat saucer
First DDR Appearance: DanceDanceRevolution (2013)
Other Appearances:
jubeat plus / jubeat plus (Android) saucer pack 02
jukebeat KONAMI music pack 26
Game Size
Edit
然りとて
うわ言は
成り損ねの夢に浮く

箱入りの世界に私語く声は
宛らリボンを解く指の床しさ
兎角 毒もない花の毒にあてられ
雁字搦め でも此処に居たい

足元が
忽ち
沈んでく

傍から がら がら
夢見心地なのに?

胸から生えゆく梯子から
きみ 心地よい泥濘を抜けだしなって言うから
匙加減のない その強い目に
捩じまきが下手だねと笑って手掴んだ
灰を飲まされて 駈け抜けて
sari to te
uwagoto wa
narisokone no yume ni uku

hakoiri no sekai ni sasayaku koe wa
sanagara RIBBON wo toku yubi no yukashisa
tokaku doku mo nai hana no doku ni aterare
ganjigarame demo koko ni itai 

ashimoto ga
tachimachi
shizun de iku
hata kara gara gara
yumemigokochi na noni?

mune kara haeyuku hashigo kara
kimi kokochiyoi nukarumi wo nukedashinatte iu kara
sajikagen no nai sono tsuyoi me ni
neji maki ga hetada ne to warattete tsukanda
hai wo nomasarete kakenukete
Long Version
Edit
然りとて (さりとて) 
うわ言は 
成り損ねの夢に浮く

箱入りの世界に私語く声は (ささやく) 
宛らリボンを解く指の床しさ (さながら) 
兎角 毒もない花の毒にあてられ 
雁字搦め でも此処に居たい

足元が 
忽ち (たちまち) 
沈んでいく 
傍から がら がら 
夢見心地なのに?

胸から生えゆく梯子から 
きみ 心地よい泥濘を抜け出しなって言うから (ぬかるみ) 
匙加減のない その強い目に 
捩じまきが下手だねと笑って手掴んだ 
灰を飲まされて 駆け抜けて

甘い言葉や安寧の響きは 
矢庭に きみの横顔で遮られる 
信じてたものの弱さに悄気る暇も (しょげる) 
宛がう気すら一摘みも無い

宵闇を 
すんなり 
焼き払う 
そこから きら きら 
怖いはずの月が

背なから剥がれる古い塵 
きみ 線細い 長い指 光にまみれてく 
匙加減の無い その柔い目で 
捨てきれない残り香をまだ懐ってるね?って 
襟正し 白を切り通す
Song Connections / Remixes
Edit
A long version of フー・フローツ, titled フー・フローツ Long Version, appears on the jubeat saucer ORIGINAL SOUNDTRACK - Sho & Hoshiko - album.
フー・フローツ is one of the songs in the jubeat・GITADORA・DDRのTriple Journey (jubeat, GITADORA, DDR's Triple Journey) crossover event for DanceDanceRevolution 2013. It can be unlocked since August 9, 2013.

To unlock フー・フローツ in DanceDanceRevolution 2013, your first two songs in your credit must have a difficulty level of 7, and your third song a difficulty level of 5.

In jukebeat, フー・フローツ's title is changed to who floats.
フー・フローツ marks the first appearance of Nanako in the DanceDanceRevolution series.
Difficulty & Notecounts
Edit
Game
Single
Doubles
BEG
BAS
DIF
EXP
CHA
BAS
DIF
EXP
CHA
Notecounts / Freeze Arrows / Shock Arrows
142 / 0
213 / 9
327 / 9
428 / 7
- / - / -
209 / 8
327 / 7
429 / 8
- / - / -
DDR (2013)→Present
3
6
9
12
—
6
9
12
—
Groove Radar Values
Edit
Groove Radar Values
Single
Doubles
BEG
BAS
DIF
EXP
CHA
BAS
DIF
EXP
CHA
Stream
?
?
?
79
—
?
?
79.3
—
Voltage
?
?
?
67.5
—
?
?
67.5
—
Air
?
?
?
30.9
—
?
?
25.5
—
Freeze
?
?
?
16.3
—
?
?
19.4
—
Chaos
0
?
?
40.5
—
?
?
39.9
—