Song Information
Edit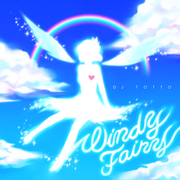 Artist: DJ TOTTO
Composition/Arrangement: DJ TOTTO
BPM: 180
Length: 1:58
First DDR Appearance: DanceDanceRevolution (2013)
None.
Song Connections / Remixes
Edit
None.
Windy Fairy was added to DanceDanceRevolution 2013 on October 23, 2013, as a default song.
Windy Fairy runs at 6/8 time signature.
When Windy Fairy is played, the "HERE WE GO" message occurs a beat after Windy Fairy actually starts playing.
The last portion of Windy Fairy's Single Expert chart contains 12th note footswitches that are also used in Spanish Snowy Dance's Single Expert chart.
Difficulty & Notecounts
Edit
Game
Single
Doubles
BEG
BAS
DIF
EXP
CHA
BAS
DIF
EXP
CHA
Notecounts / Freeze Arrows / Shock Arrows
111 / 1
234 / 20
345 / 26
555 / 53
- / - / -
210 / 30
321 / 26
567 / 60
- / - / -
DDR (2013)→Present
2
7
11
15
—
7
11
15
—
Groove Radar Values
Edit
Groove Radar Values
Single
Doubles
BEG
BAS
DIF
EXP
CHA
BAS
DIF
EXP
CHA
Stream
—
—
—
—
—
—
—
—
—
Voltage
—
—
—
—
—
—
—
—
—
Air
—
—
—
—
—
—
—
—
—
Freeze
—
—
—
—
—
—
—
—
—
Chaos
—
—
—
—
—
—
—
—
—