Song Information
Edit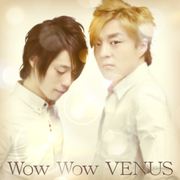 Artist: VENUS
Composition/Arrangement: Sota Fujimori
Lyrics/Vocals: Yoshitaka Nishimura
BPM: 157
Length: 2:01
First DDR Appearance: DanceDanceRevolution (2013)
Currently not available.
Song Connections / Remixes
Edit
Wow Wow VENUS was added to DanceDanceRevolution 2013 on October 23, 2013, as a default song.
Wow Wow VENUS marks the first appearance of Sota Fujimori and Yoshitaka Nishimura's VENUS alias in the DanceDanceRevolution series.

Sota and Yoshitaka often collaborate under the VENUS alias. Typical characteristics of VENUS original songs include sexual overtones, present in either the lyrics themselves or the graphics associated with them.
Difficulty & Notecounts
Edit
Game
Single
Doubles
BEG
BAS
DIF
EXP
CHA
BAS
DIF
EXP
CHA
Notecounts / Freeze Arrows / Shock Arrows
97 / 0
161 / 39
288 / 24
376 / 25
- / - / -
171 / 8
279 / 34
358 / 20
- / - / -
DDR (2013)→Present
2
4
8
11
—
5
8
12
—
Groove Radar Values
Edit
Groove Radar Values
Single
Doubles
BEG
BAS
DIF
EXP
CHA
BAS
DIF
EXP
CHA
Stream
?.???
?.???
?.???
?.???
—
?.???
?.???
?.???
—
Voltage
?.???
?.???
?.???
?.???
—
?.???
?.???
?.???
—
Air
?.???
?.???
?.???
?.???
—
?.???
?.???
?.???
—
Freeze
?.???
?.???
?.???
?.???
—
?.???
?.???
?.???
—
Chaos
?.???
?.???
?.???
?.???
—
?.???
?.???
?.???
—