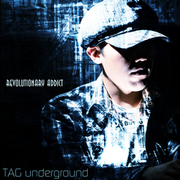 General Information
Edit
Yasuhiro Taguchi, better known as TAG, is a BEMANI artist and the current head sound director of the DanceDanceRevolution series. He first appeared in BEMANI as a GuitarFreaks & DrumMania artist, with his first original song being El Dorado, from GuitarFreaks V3 & DrumMania V3. He would later become a stepchart writer for some songs in DDR SuperNOVA2 and DDR X before becoming a regular artist on DDR X, debuting with the boss song SABER WING and later the current sound director of the DDR series starting with DDR X2. He later started composing the system music for DDR games starting with DDR II and DDR X3 VS 2ndMIX.
Before he revealed himself to be TAG, SUPER STAR 満-MITSURU- was speculated to be NAOKI or Tatsh in sunglasses.
TAG tends to leave long comments about his songs.
Since Naoki left Konami in early 2013, instead of You having a comment from Naoki, You has a comment from TAG instead.
TAG - His main alias.
TAG underground - Used for more intense techno music. This alias was once used only in the DanceDanceRevolution series, but has since been used in the REFLEC BEAT series with ÆTHER.
SUPER STAR 満-MITSURU- - Used only in his ONLY ONE series of songs.
SUPER HEROINE 彩香-AYAKA-
CAPACITY GATE
CLIMAX of MAXX 360 - Used only for PARANOiA Revolution.
DanceDanceRevolution Songs
Edit
Community content is available under
CC-BY-SA
unless otherwise noted.