General Information
Edit
Name: Yuichi Asami (浅見祐一)
Birthplace: Tokyo, Japan
Birthdate: September 1, 1971
Yuichi Asami is one of the first known Konami artists for DanceDanceRevolution, along with Naoki Maeda. He first worked as an artist for the console releases until DanceDanceRevolution SuperNOVA and also directed some of the console titles, like Mario Mix for the GameCube and the HOTTEST PARTY series for the Wii.
Although Yuichi has been a DanceDanceRevolution artist for a long time, he has recently started composing songs for other BEMANI series like jubeat and beatmaniaIIDX.
Besides creating BEMANI works, Yuichi has also composed music for games like NBA POWER DUNKERS and Police 911.
Yuichi is currently the sound director of ミライダガッキ Future TomTom, Konami's newest BEMANI series.
In Dance Dance Revolution 5thMIX up to DanceDanceRevolution II, he and Naoki are the secret hidden dancing characters where his name in his character appearance was his main alias.
Character Appearance
Edit
In Dance Dance Revolution 5thMIX, Yuichi as his main alias U1 the secret character. He has short wavy pale blue hair and wears his matching blue sunglasses. His outfit is a black long sleeved buttoned shirt with red triangle designs that exposes his stomach similar to Naoki's, black hipster pants and shoes.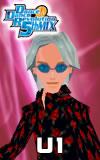 In
DanceDanceRevolution II
, Yuichi's appearance has minor changes as his short pale blue hair is now have fringes on both sides of his head and wears different sunglasses but maintains the same outfit in his 5thMIX appearance. The buttoned shirt that he wears changes into a flowery design, his pants are now brown and maintains his black shoes.
His main alias, "U1", is read as "yu-ichi", since 1 in Japanese is pronounced "i-chi".
Yuichi's NPD3's alias is a reference to the NBA POWER DUNKERS 3 game, where he composed music for.
Yuichi's comments about his songs are often short.
U1-ASAMi - His main alias.
U1 - A shortened form of his main alias.
NPD3
2MB - Used mostly for remixing other songs composed by Naoki Maeda.
2.1MB underground - Used only for Tohoku EVOLVED.
U1 overground
CLUB SPICE
Chang ma (member of, with Akira Yamaoka)
DanceDanceRevolution Songs
Edit
Community content is available under
CC-BY-SA
unless otherwise noted.